These 4-Ingredient Crock Pot Chicken Wings are slow cooked in the crock pot and then caramelized in the oven to make incredibly gooey and delicious BBQ sauce!
serve your crock pot chicken wings with a homemade dressing like ranch dressing or blue cheese greek yogurt dressing.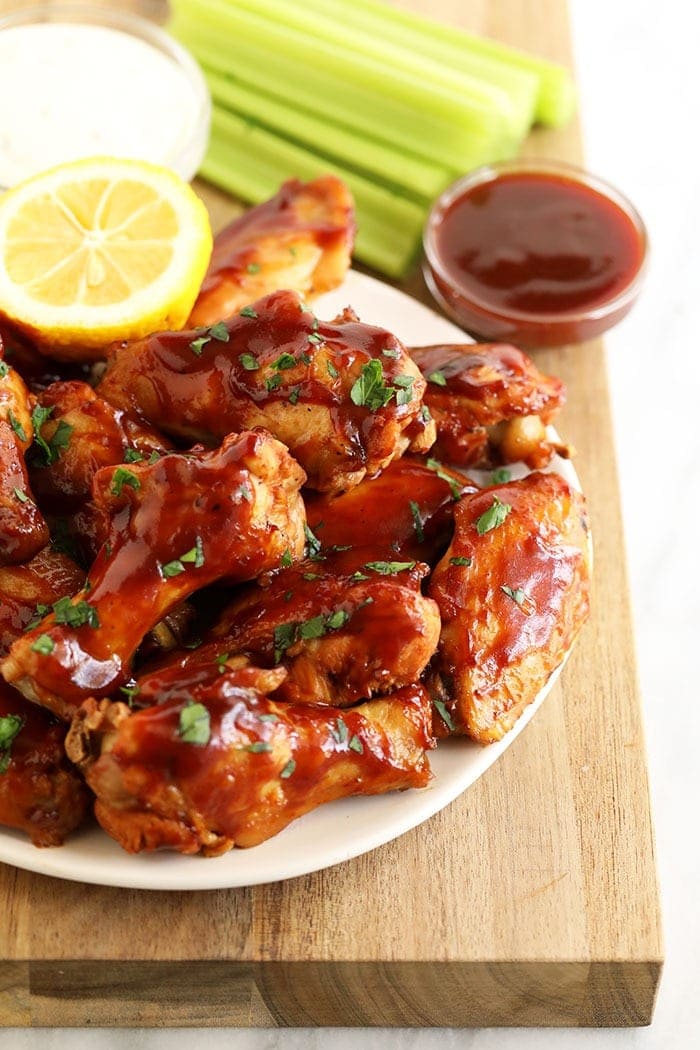 Since we're game day fans and love to throw parties, we made sure to keep this crockpot chicken wings recipe super simple so you can focus on your guests (and your frozen margaritas).
Use fresh or frozen chicken wings and brush them with barbecue sauce. Then cook them in the slow cooker on high for 2 hours or on low for 4 hours. Eat them as is, or go a step further to make them crispy in the oven or on the grill.
What do you need for this crockpot chicken wings recipe?
This crockpot chicken wings recipe calls for just four ingredients: raw chicken wings (fresh or frozen), your favorite BBQ sauce, and salt and pepper to taste. The BBQ sauce is the star, infusing the wings with a flavor profile that can be spicy, smoky, sweet, or savory depending on your preference.
Fresh or frozen wings?
The first is the first. Fresh or frozen wings? There are plenty of options when it comes to chicken wings and we have both good and bad news for you:
Good news: You can buy frozen or fresh chicken wings at the grocery store and either will work. In fact, we recommend buying them frozen because you're more likely to find a frozen drummies + wings combo than fresh!
The other good thing about buying them frozen is that you're more likely to be able to find the drums and wings already separated than having to do it yourself, which is a mess. We know it from experience.
Bad news: If you buy frozen wings, we recommend thawing them before cooking them in the slow cooker. Don't worry, all you have to do is let them thaw in the fridge overnight and you're good to go!
The reason we suggest thawing them first is to ensure you eliminate any type of foodborne illness.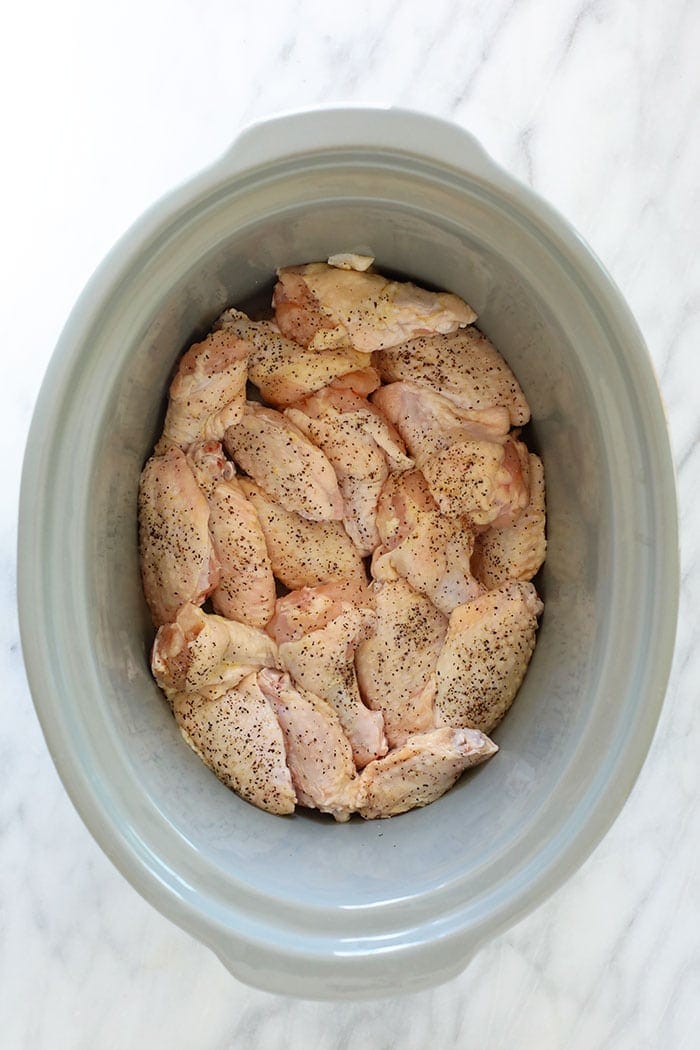 Ingredient Swaps and Variations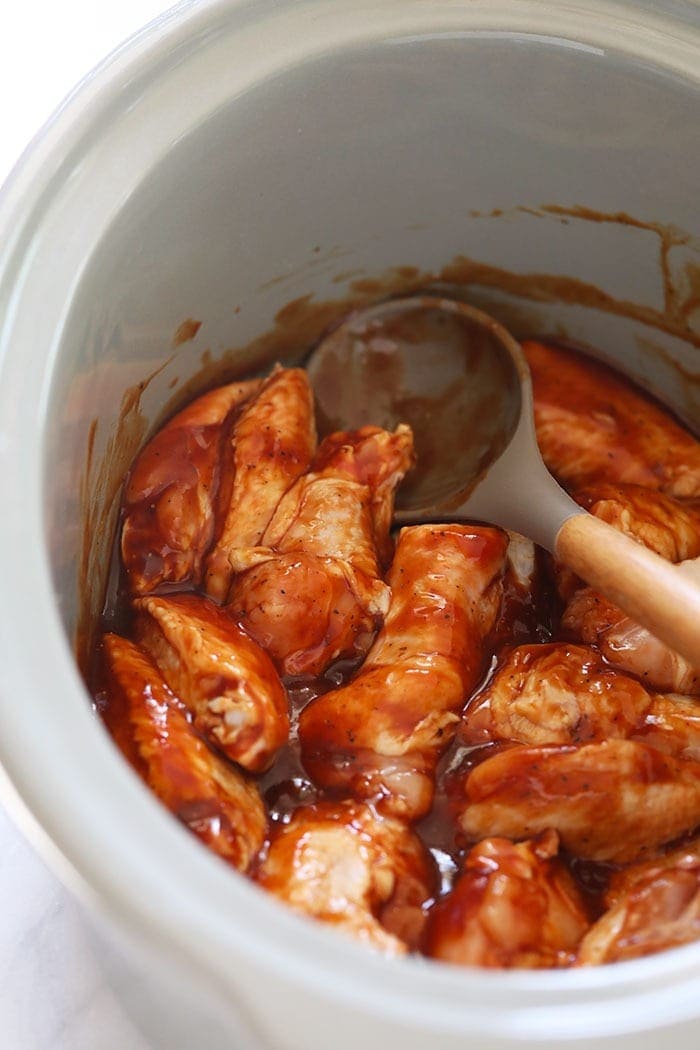 How long do you cook chicken wings in the slow cooker?
high for 2 hours
low for about 4
You know your slow cooker chicken wings are done cooking once they reach an internal temperature of 165ºF.
Your wings will be extremely soggy once they're done cooking, but don't worry, we'll show you how to brown them a bit!
How to Serve Crockpot Chicken Wings
Do you want to eat your wings as is? Since the chicken wings have reached an internal temperature of 165ºF (feel free to use a meat thermometer if you're not sure!), they are safe to eat and ready to serve.
Fresh out of the slow cooker, they'll be tender and moist.
Do you want them to be a little crispy and caramelize the barbecue sauce? Remove the slow cooker chicken wings from the pot with a slotted spoon and place in a skillet. Brush both sides of all wings with more sauce. By basting the wings with sauce before cooking them again, the BBQ sauce will caramelize and be super delicious.
Bake: Bake wings at 400ºF for 5-10 minutes, flipping halfway.
Grill: Grill the wings at 450 for 5 minutes, flipping halfway. <– grilling them is our preferred way because we love a little bit of charcoal.
Roast: Grill over high heat for 2-5 minutes, flipping halfway.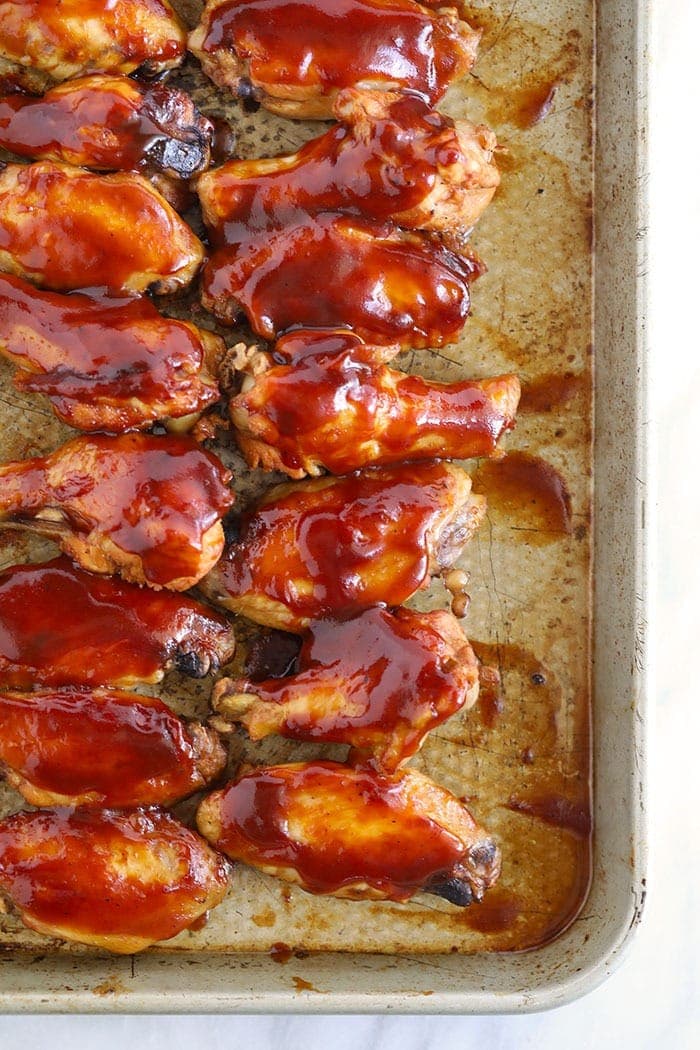 Frequently asked questions
How do I cook many wings?

The best way to cook lots of wings is in the slow cooker! Good news for you, you are already on a recipe that cooks 3 lbs. of wings Scroll down to the recipe card to learn how to make it!
What do I serve with chicken wings?

We love serving chicken wings with celery sticks and carrot sticks and of course, dipping sauces like ranch or blue cheese.
Are chicken wings bad for you?

Chicken wings have a bad wrapper because they are breaded and fried in the classic way. If you make them at home, like in the slow cooker, for example, they turn out so much better! So if you're hoping to make a better wing for yourself, use this recipe!
Can I cook a lot of wings in the slow cooker?

Absolutely! This recipe can handle up to 3 pounds of wings.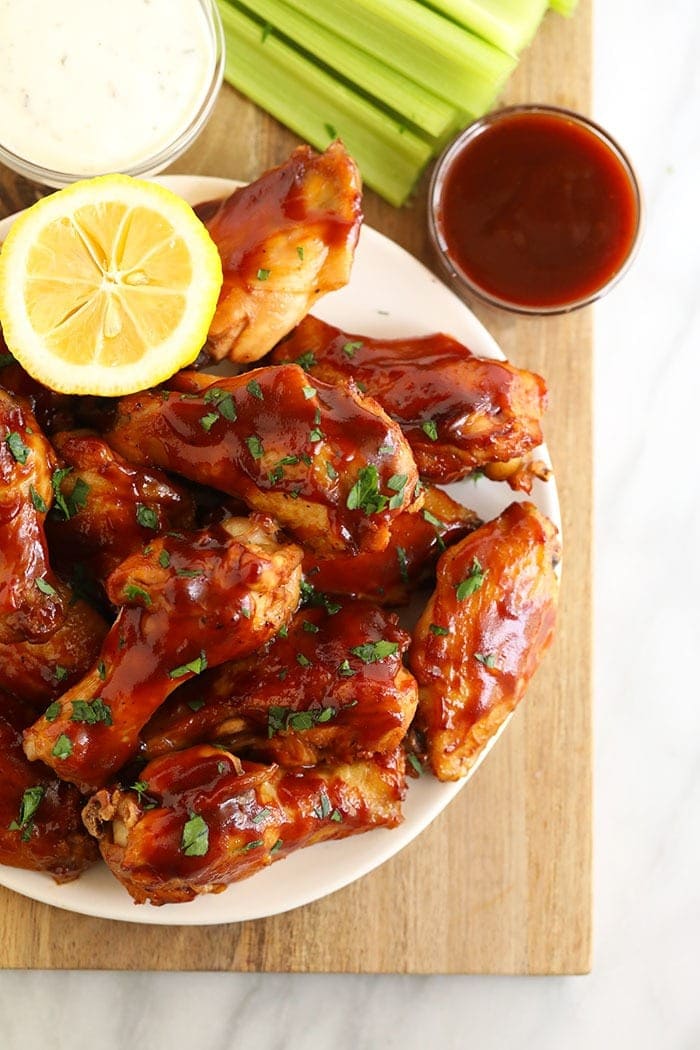 Storage Tips
Allow chicken to cool completely before storing in an airtight container in the refrigerator for up to 3 days.
To reheat: place on a microwave-safe plate and reheat in the microwave for 60-90 seconds.
freeze chicken wings
Yes, you can freeze chicken wings in a crock pot. If you plan to freeze your chicken, we recommend freezing it immediately after cooking it in the slow cooker.
Once fully cooked, let it cool for 30 minutes.
Then, transfer to a gallon-size freezer-safe bag squeezing out as much air as possible and sealing.
Freeze up to 3 months.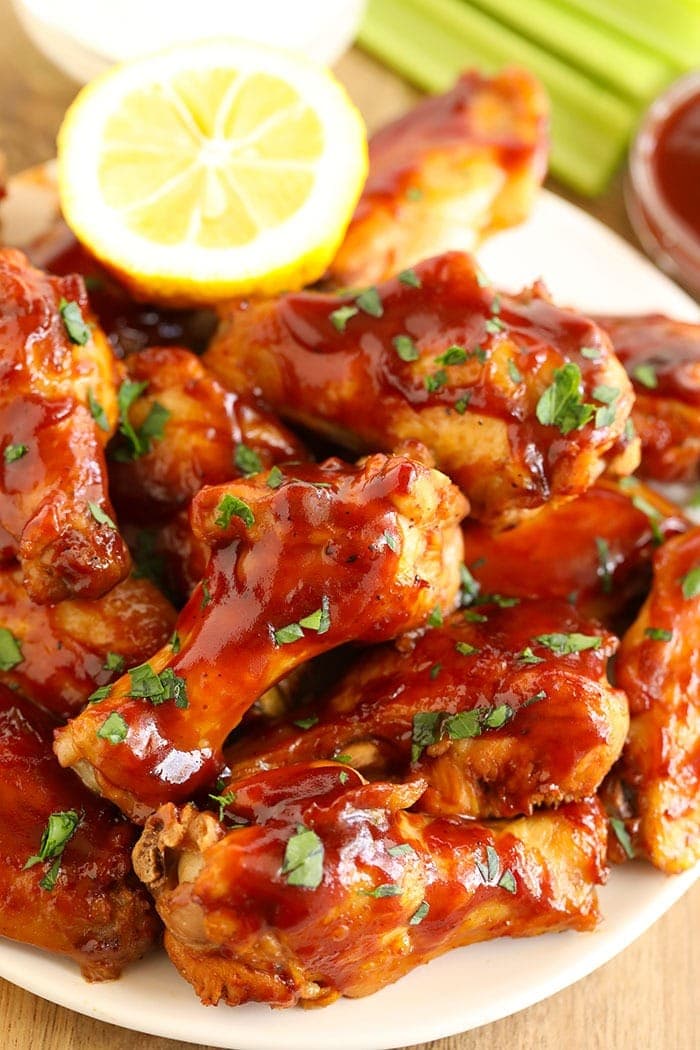 Serving Suggestions
Serve your crock pot chicken wings with your favorite dipping sauces, such as ranch sauce, blue cheese dressing, green goddess dressing, or Greek yogurt dressing. Pair them with fresh veggies like celery and carrot sticks for a full game day.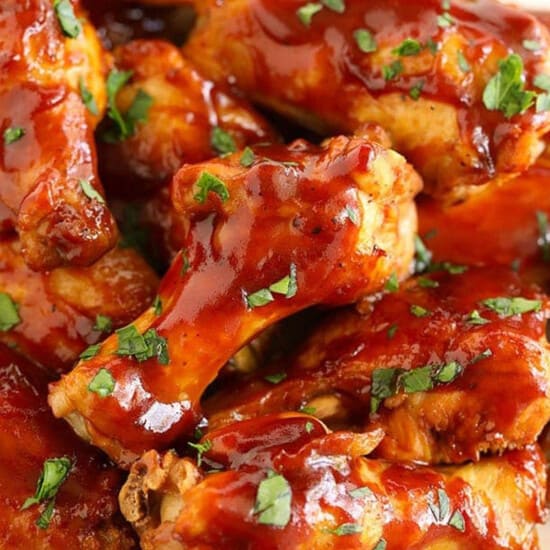 Crock Pot BBQ Chicken Wings
really delicious barbecue Crock Pot Chicken Wings which are super tender on the inside and spicy on the outside.
Homework:fifteen minutes minutes
Cook:2 hours hours
Total:2 hours hours fifteen minutes minutes
Fat 25
carbohydrates 6
Protein 29
Ingredients
3

pounds

raw chicken wings

fresh or frozen

1

cup

BBQ sauce

divided (or more if desired)

Salt and pepper

prove
Instructions
Start by preparing chicken wings. If frozen, thaw chicken wings in the refrigerator for at least 4 hours or overnight. Then, season the raw wings with salt and pepper to taste.

Spray the bottom and sides of your slow cooker with nonstick cooking spray and place chicken wings on the bottom.

Pour in 1/2 cup of the barbecue sauce and mix until the chicken is completely covered.

Cover slow cooker and cook on high for about 2 hours or low for about 4 hours. You know your wings are done when they reach an internal temperature of 165ºF.

Once full, option to eat immediately. Or, we recommend caramelizing the sauce and browning them a bit.

To make it, remove the chicken wings from the slow cooker and place them on a greased baking sheet. Brush an additional 1/2 cup of BBQ sauce on both sides of the chicken wings.

– Bake: Preheat oven to 400ºF. Bake chicken wings for 5-10 minutes, flipping halfway.– Roast: Preheat oven to high heat. Broil over high heat for 2-5 minutes (depending on how hot your oven is), flipping halfway.– Grill: Preheat grill to 450ºF. Grill the chicken wings over direct heat for about 5 minutes, flipping them halfway.

The goal of baking, broiling, or broiling the wings afterwards is to create a caramelized layer of barbecue sauce. This should also toughen up the skin a bit so it's not as wet from the slow cooker.

Let cool for 5 minutes, then eat with your favorite sauces.
Tips and Notes
Nutritional information makes 8 servings and uses Annie's Organic BBQ Sauce.

As always, feel free to add more sauce or bake longer if you like.

We wanted to make a note that because you're not frying your chicken wings, they won't get super crispy like at a restaurant.
If you want your chicken wings to be crispy after slow cooking: We found that the higher the heat, the more restaurant-like they are. Remember, they just sat in a slow cooker for 2 hours and they're super moist!
Nutritional information
Calories: 365kcal Carbohydrates: 6gram Protein: 29gram Fat: 25gram Fiber: 0gram Sugar: 4gram