This Creamy Cucumber Salad combines crunchy cucumbers, red onion, and fresh dill, all tossed in a simple Greek yogurt dressing. It's the perfect summer side dish for potlucks or barbecues.
Last week I shared this easy Cucumber Salad made with a Simple Vinegar Dressing and today I am sharing this Creamy Cucumber Salad made with a Greek Yogurt Dressing.
Many Creamy Cucumber Salad recipes are made with mayonnaise and/or sour cream, but for this recipe we used Greek yogurt, which is healthier and adds a bit of protein.
The combination of crunchy cucumbers with the tangy and slightly sweet Greek yogurt dressing is refreshing and pure perfection. Trust me, you will want to bring this salad to all your summer parties!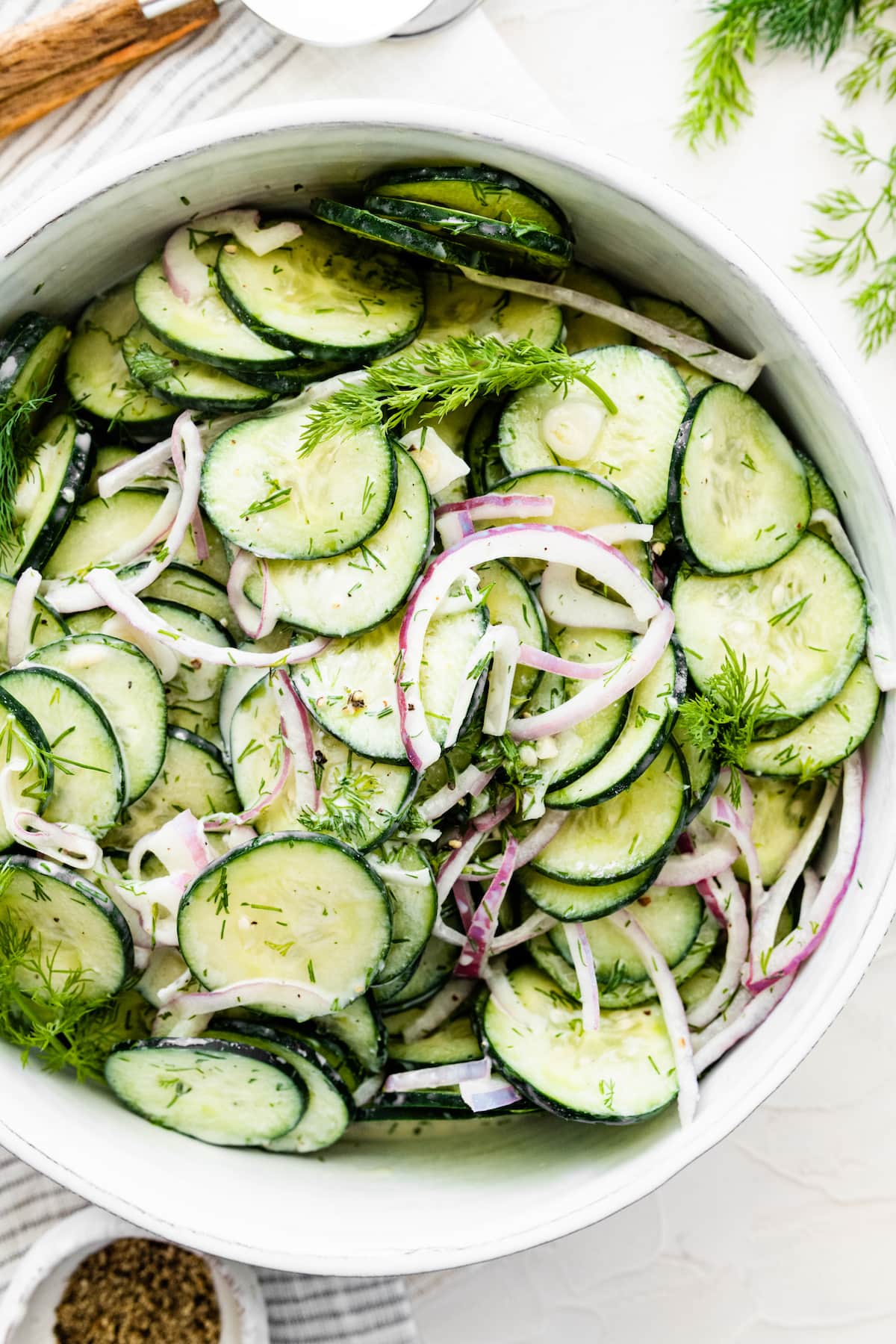 Why you will love this recipe
It comes together in no time with just a few simple ingredients.
It's the perfect cooling garnish for hot summer days.
We used Greek yogurt instead of mayonnaise or sour cream for the dressing!
It can be served as a side dish with various meals, making it a versatile addition to your menu.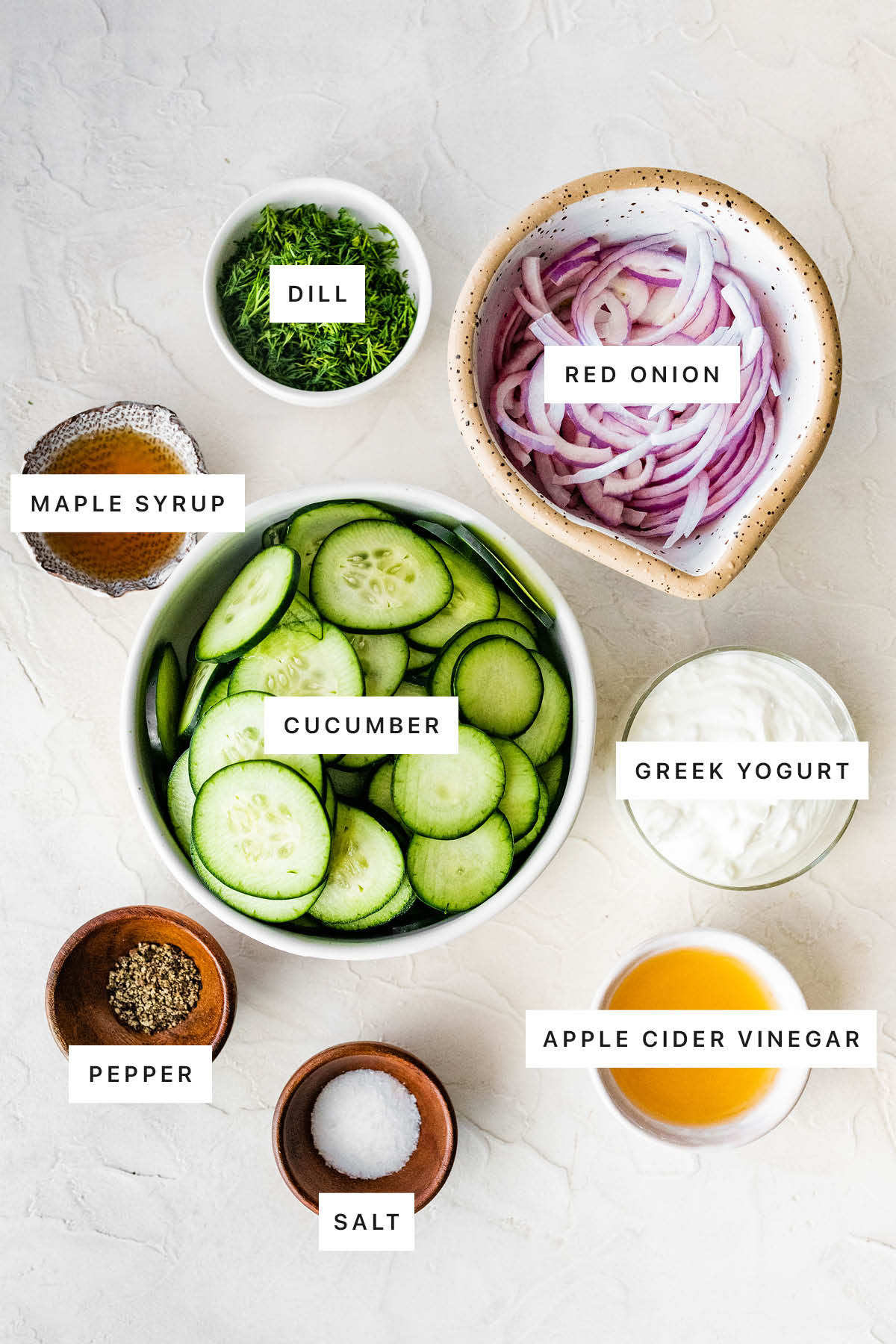 Ingredients needed
cucumbers – The star ingredient of this salad! I used regular cucumbers for this salad, but feel free to use English cucumbers or Persian cucumbers instead. Just a note, if you use Persian cucumbers, they are smaller, so you'll want to double the amount you use. I didn't peel my cucumbers either, but if you'd rather peel your own, go ahead!
Red onion – adds a tangy, slightly spicy flavor that balances out the cool cucumber.
fresh dill – I love adding fresh herbs to my dishes and fresh dill goes perfectly with the rest of the ingredients. If you don't have fresh dill on hand, you can use dried dill.
greek yogurt – I used full-fat Greek yogurt for the dressing instead of the mayonnaise or sour cream normally found in cucumber salads. It is rich and tangy and makes the perfect creamy dressing that goes so well with this salad. Plus, add a touch of protein!
Apple cider vinegar – Apple cider vinegar is my favorite vinegar for salad dressing because of its health benefits and I love the flavor it adds here.
Maple syrup – adds a hint of sweetness to the dressing and balances out the spicy yogurt nicely. If you don't need this salad to be vegan, honey is a good substitute.
sea ​​salt and black pepper – two essentials to unite all the flavors of the dressing.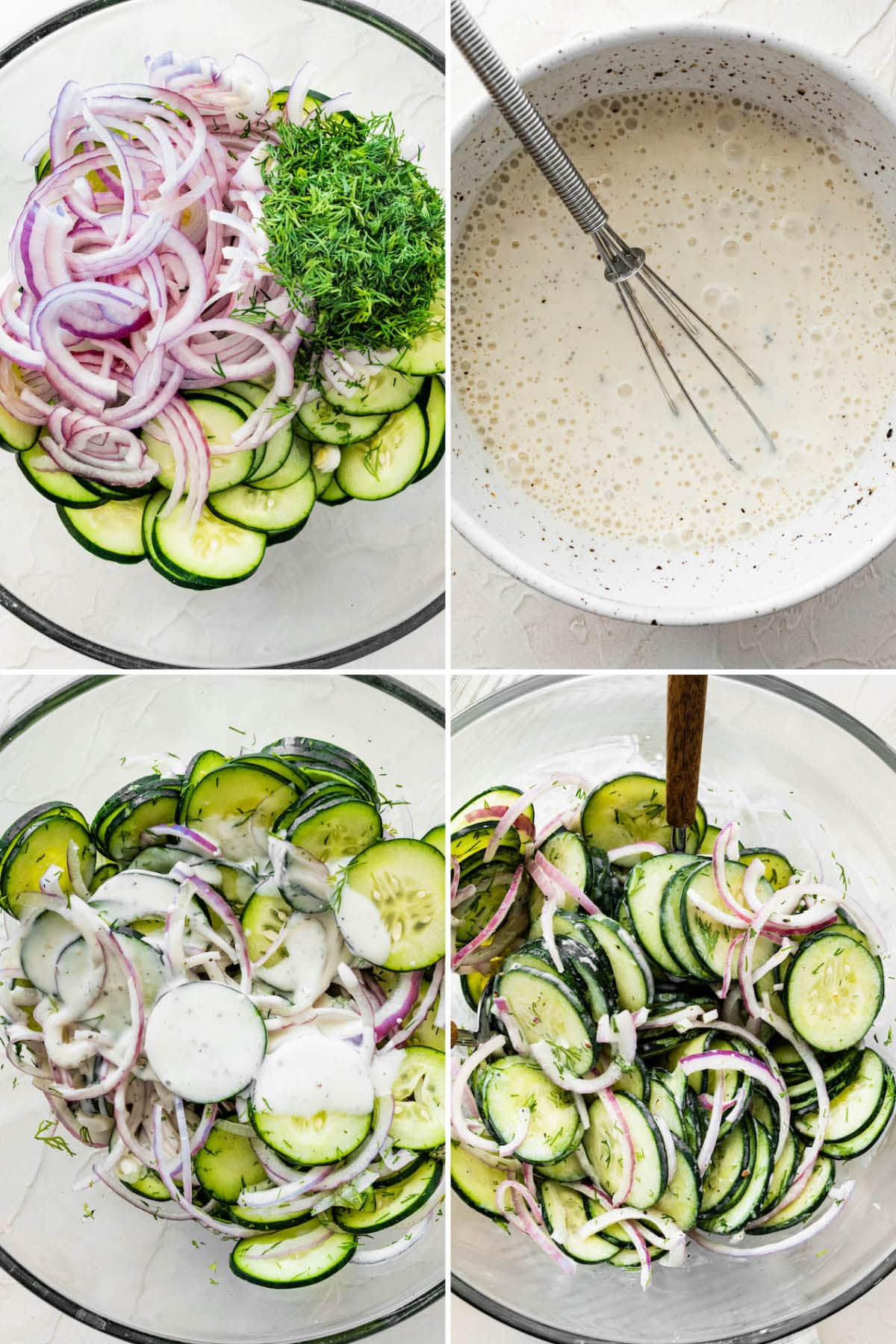 How to do
This cucumber salad recipe is so easy to make! Simply add the cucumber slices, onion, and fresh dill to a large bowl and stir to combine.
Next, whisk together the yogurt, maple syrup, apple cider vinegar, salt, and pepper in a small bowl to create the dressing.
Drizzle dressing over cucumbers and toss until coated. You can enjoy it right away, but I like to let it chill in the fridge for a few hours before serving. Enjoy!
substitutions and notes
Red onion – If you're not a fan of red onion, feel free to use a yellow one instead!
swap vegetables – Do you want to make this salad without the cucumbers? Try my classic broccoli salad! It's another classic summer side dish that's also tossed in a creamy Greek yogurt dressing.
Dill – If you don't have fresh dill on hand, you can use another fresh herb like parsley or mint. If you don't have fresh dill on hand, you can easily use dried dill. You'll want about 3 teaspoons of dried dill to equal the same amount of fresh dill.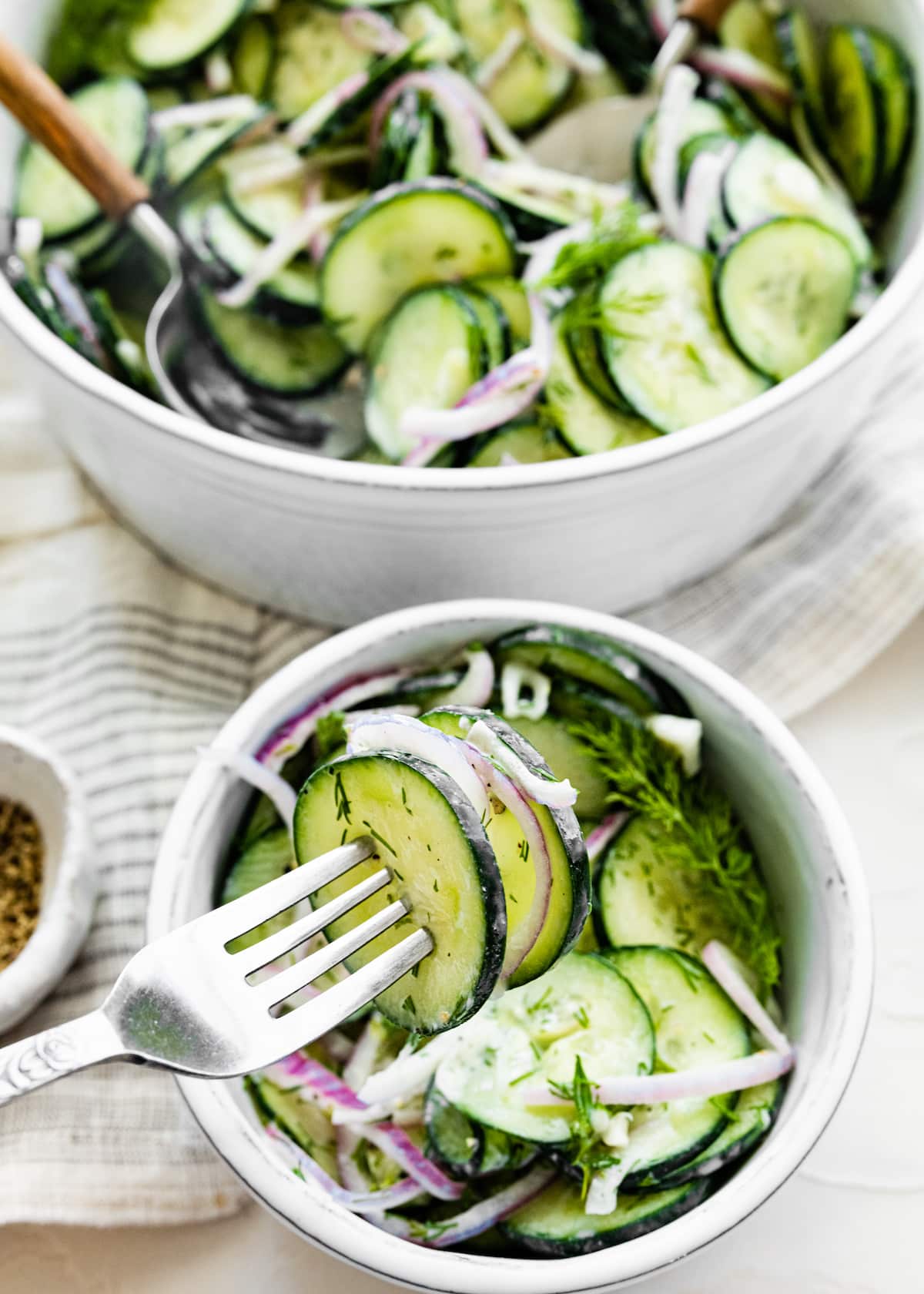 What to serve with this salad
This Cucumber Salad makes a great summer side for potlucks, picnics, or barbecues, but it also makes a great side salad for dinner. Here are some ideas for what to serve this salad with: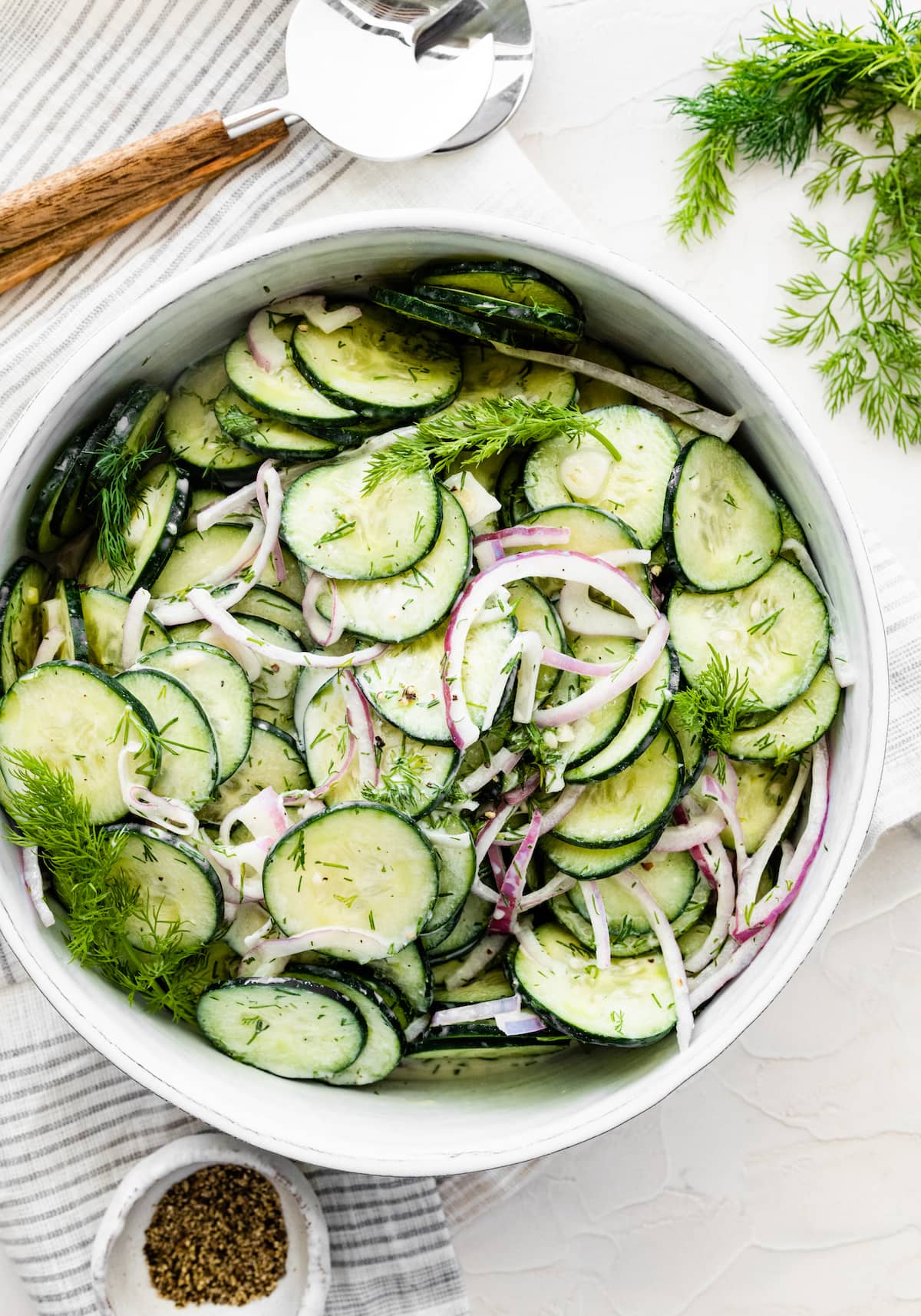 How to store
This Creamy Cucumber Salad is a great make-ahead recipe for all your summer parties! Store this Cucumber Salad for up to 3 days in the fridge in an airtight container.
Just a note that the cucumbers will release water as they sit, so the salad could become runnier over time. It's a good idea to give the salad a good stir before serving if it has been sitting out for a while. If you have too much liquid, you can always drain some before serving.
More salad recipes
Be sure to check out all the cucumber recipes as well as the full collection of salad recipes on EBF!
Service: 1/4 recipe | Calories: 55kcal | Carbohydrates: 7gram | Protein: 3gram | Fat: 2gram | Saturated fat: 1gram | Cholesterol: 4milligrams | Sodium: 304milligrams | Potassium: 180milligrams | Fiber: 1gram | Sugar: 5gram
Nutrition information is automatically calculated and should only be used as an approximation.