This Viral Cucumber Bell Pepper Salad is sweet, savory, and bursting with flavor! It's crunchy, refreshing, and comes together in just 10 minutes, making it the perfect summer side dish.
As you all know, I am a huge lover of salads, so as soon as I saw Rachael Kirkconnell's viral Cucumber Bell Pepper Salad recipe on TikTok, I knew I had to try it!
This salad is so easy to whip up and packed with so much flavor thanks to the everything bagel seasoning, crispy chili, and homemade sesame ginger dressing. And when paired with crunchy cucumbers and bell peppers, the combination is absolutely irresistible. It might just be my new favorite summer salad!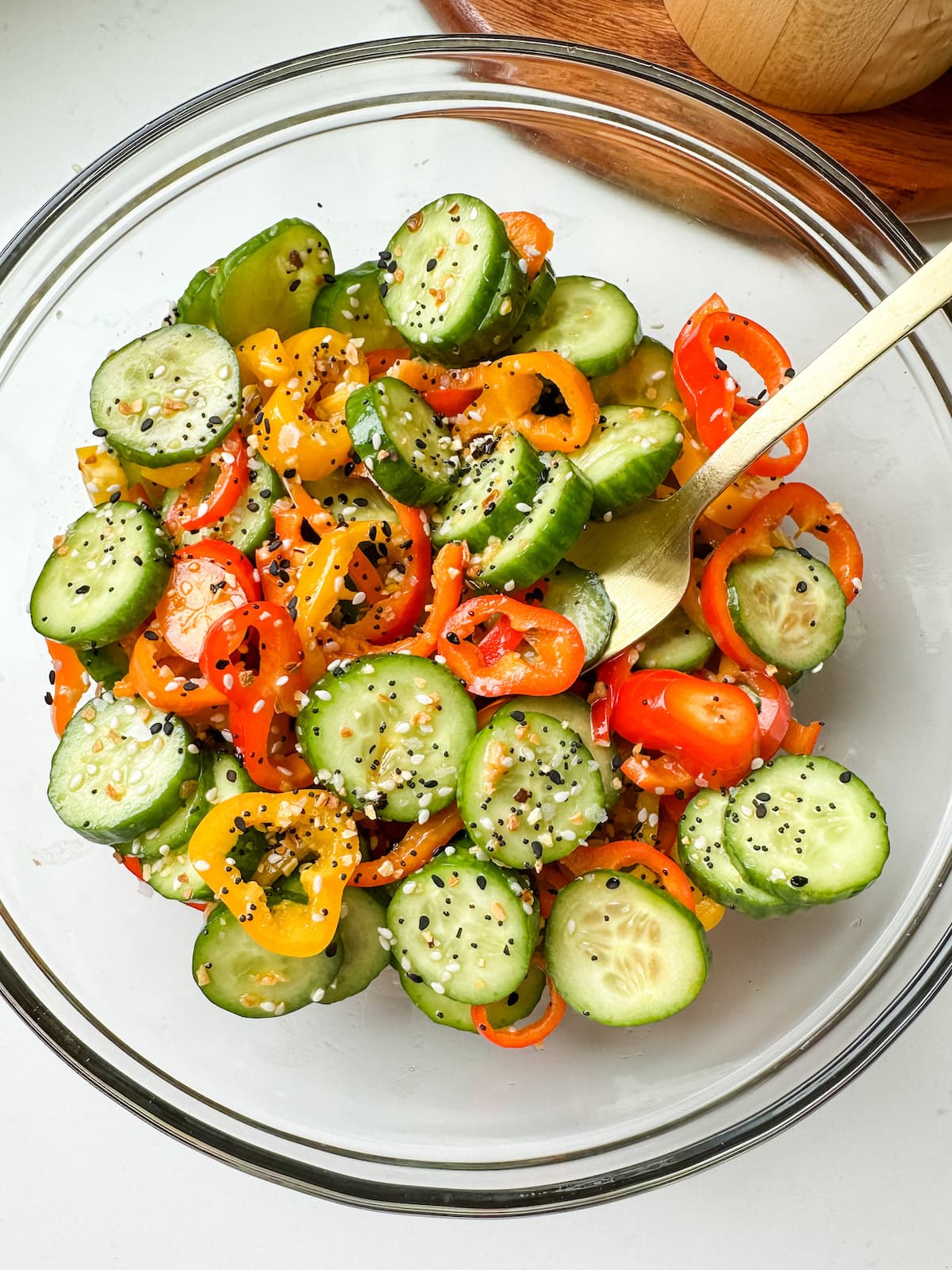 Why you will love this salad
Simple and fresh ingredients, cucumber and sweet peppers.
Unique flavor of Everything But the Bagel Seasoning and chili crisp.
Quick and easy homemade sesame ginger dressing.
Set up and go in just 10 minutes.
Packed with nourishing vitamins and antioxidants.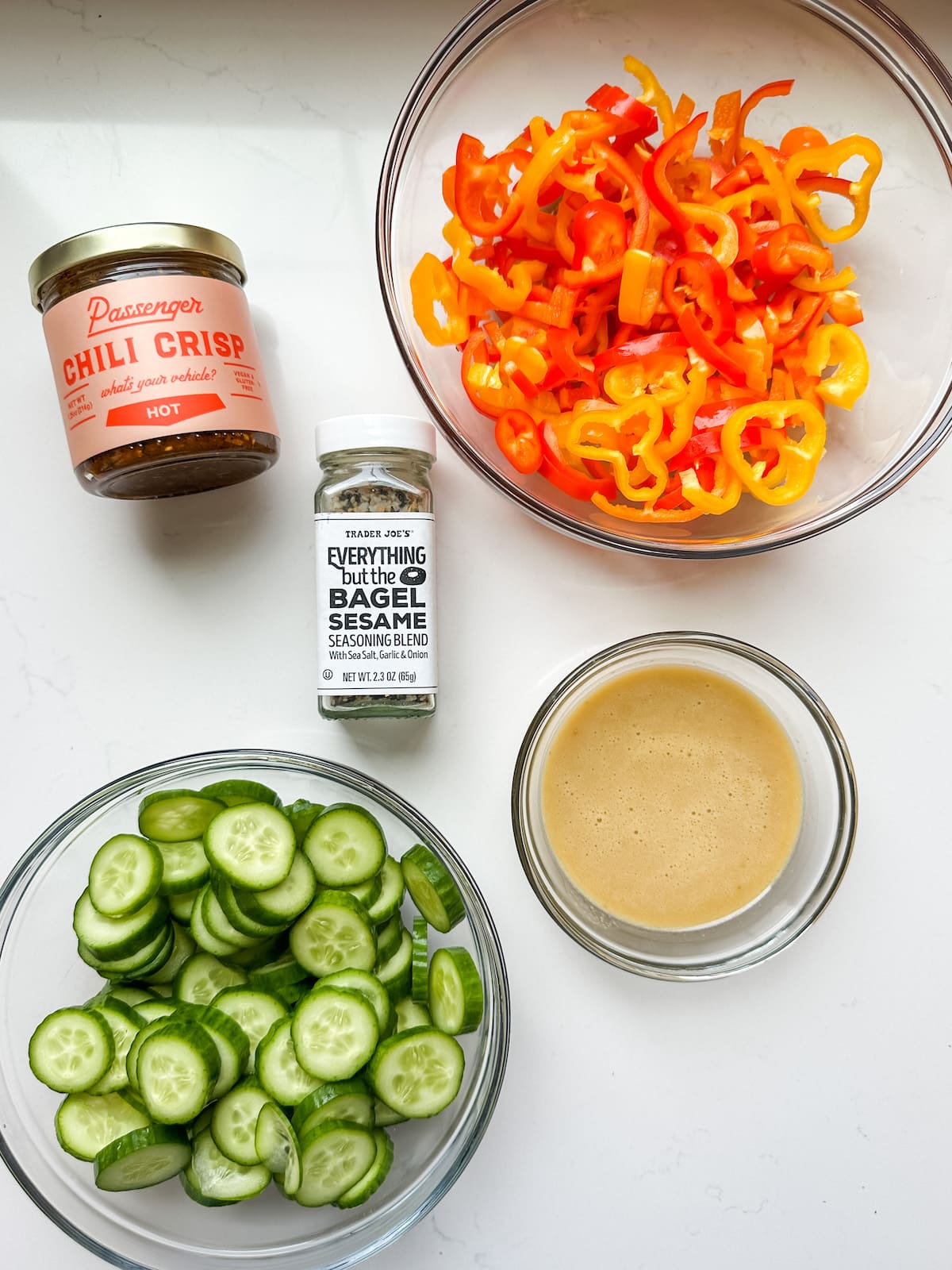 Ingredients needed
baby cucumbers
mini sweet peppers
myeverything but the bagel seasoning – I get Trader Joe's seasoning, but most grocery stores carry it now.
crispy chili – I used Passenger chili crisp but I also like Fly By Jing.
Sesame and Ginger Dressing – you can use my recipes or grab a bottle of store-bought dressing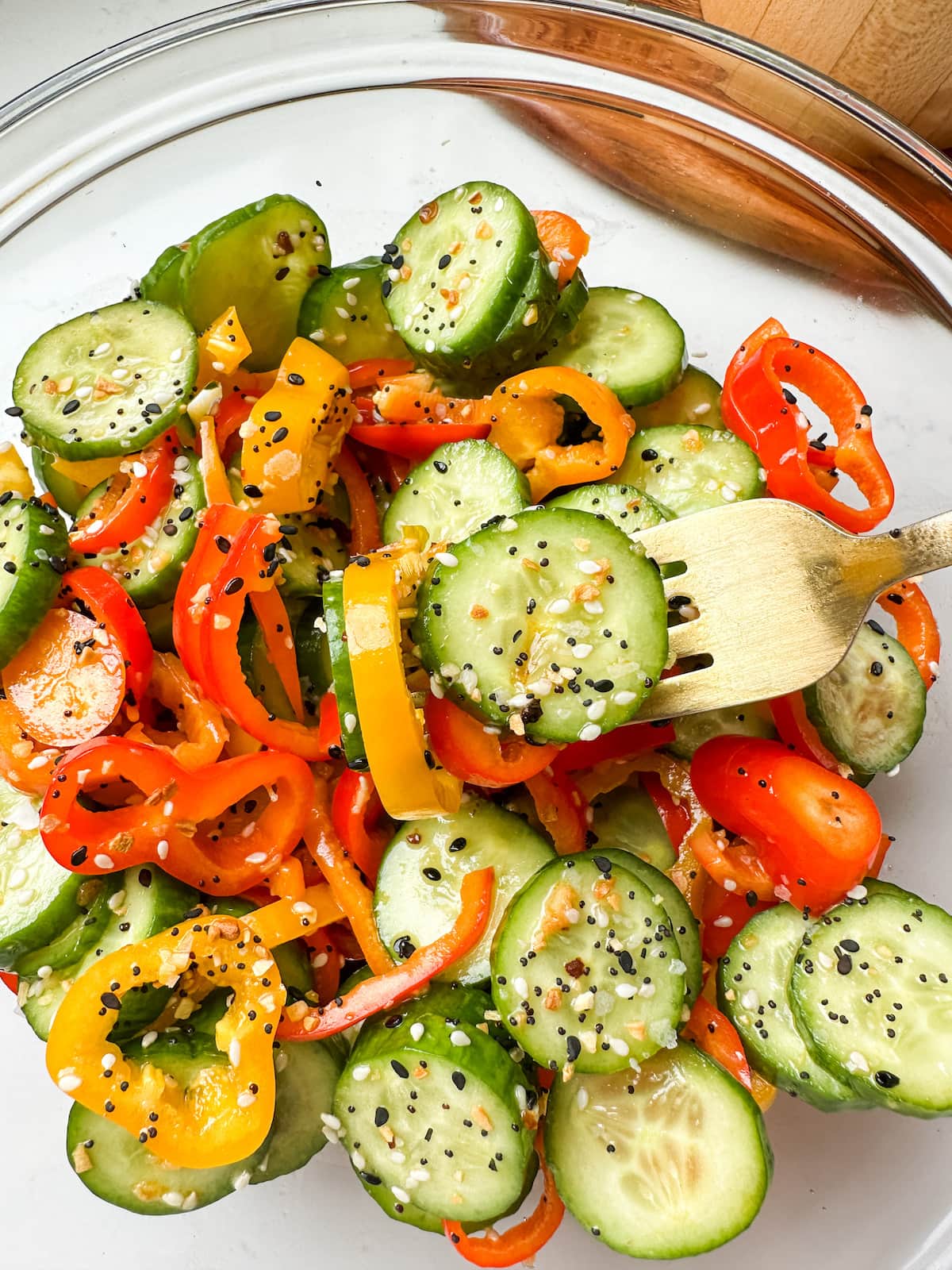 What to serve with this salad
This Cucumber Bell Pepper Salad is quite versatile and can easily be paired with various dishes. Here are some suggestions:
Garlic shrimp and asparagus: The lightness and freshness of this salad perfectly balances the strong flavors of the garlic shrimp and asparagus.
Sweet Potato Black Bean Burgers: The crunchy texture of the salad can add a nice textural contrast to soft and flavorful burgers!
Grilled Rosemary Chicken Skewers: The refreshing salad can act as a nice counterpart to the tasty chicken skewers.
Easy Tofu Stir-Fry: This salad would make a delicious side dish to go with a simple and healthy tofu stir-fry.
Miso Salmon: Pair the salad with the rich umami flavors of miso salmon for a healthy and satisfying meal.
Remember, the beauty of this salad is in its versatility, so feel free to pair it with any main dish you fancy!
How to store
After preparing the salad, any leftovers should be stored in an airtight container in the refrigerator. Because fresh ingredients are used, it is best to eat the salad within 1-2 days. Over time, the cucumbers and bell peppers can lose their crunch and the dressing can make them a bit soggy.
More viral recipes to try
Popular salad recipes
Be sure to check out my entire collection of salad recipes on EBF!
Prepare the dressing by adding all the ingredients to a blender and blending until smooth and creamy. Set aside.

Add cucumber and bell pepper to a bowl. Add ¼ cup dressing, bagel seasoning, and chili crunch. Mix to match. Taste and add more seasoning, chili crunch, and/or dressing if needed!
Nutrition information is automatically calculated and should only be used as an approximation.