Looking for the ultimate infused water recipe? This cucumber water recipe is the answer! Learn how to make cucumber water with the perfect ratio of water and cucumber so you can enjoy spa water at home, every day!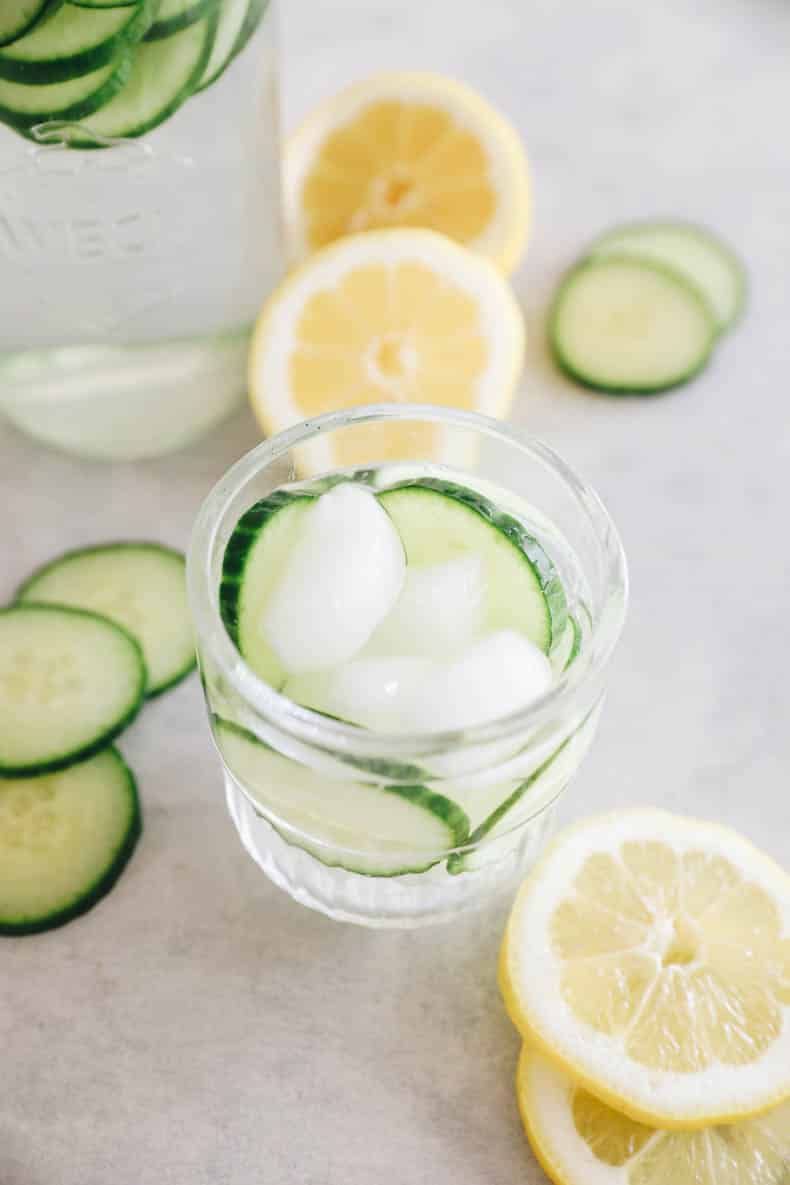 I'll be honest, a part of me felt silly for sharing this recipe. I brought it up with my husband and he didn't understand why. When I asked him how to make cucumber water he was really stumped. He made me realize that while the ingredients in cucumber water may be simple, the proportions are not!
There is also the fact that cucumber water can be easily customized for different supplements and it also raises some questions like, how long does cucumber water last? So even though you may know how to make cucumber water, not everyone does and that's 100% okay! Let me show you my cucumber water recipe with all the tips and tricks you need to know to make your own spa water at home.
Health Cucumber water benefits
Infused water has many health benefits, but cucumber water in particular is fantastic. Here are some reasons to consider adding cucumber to your drinks.
it's good for your bone health– Cucumber is a fantastic source of vitamin K which helps maintain calcium to keep bones healthy and strong.
It has a high silica content. – Silica is a trace mineral that benefits your body in many ways. From connective tissue to skin health, silica and other minerals are abundant in cucumber water.
It is a great source of antioxidants. – Cucumber is packed with antioxidant flavonoids. Antioxidants help eliminate free radicals from the body. Cucumbers contain high levels of manganese, fisetin, and beta-carotene, and are also a fantastic source of vitamin C.
Helps maintain brain health. – The antioxidant fisetin found in high levels in cucumbers was found to halt the memory loss that accompanies Alzheimer's disease in mice (source).
May help lower blood pressure – Cucumbers are high in many nutrients, including potassium. High potassium levels help your body get rid of excess sodium that can contribute to high blood pressure.
Promotes hydration – Drinking plain water is the source of hydration, but if adding flavor to your water causes you to drink more (instead of juice, sugary sodas, or sports drinks), you're certainly reaping the benefits of increased water intake.
What kind of cucumber to use?
Any type of cucumber will work in this recipe. The most common types of cucumber that you will find in the supermarket are:
Standard Sliced ​​Cucumbers – this is my favorite sliced ​​cucumber for cucumber water. I find the taste to be a bit smoother and not as bitter. They often have seeds, so if you don't want seeds in your water, you can use English cucumbers.
english cucumbers – these tend to be thinner and seedless. The skin seems a bit bitter to me but honestly it's just a matter of preference!
persian cucumbers – these are the mini cucumbers you often find packed together. While you can use these, I find they have less punch and I prefer to use standard sliced ​​cucumber or English cucumbers.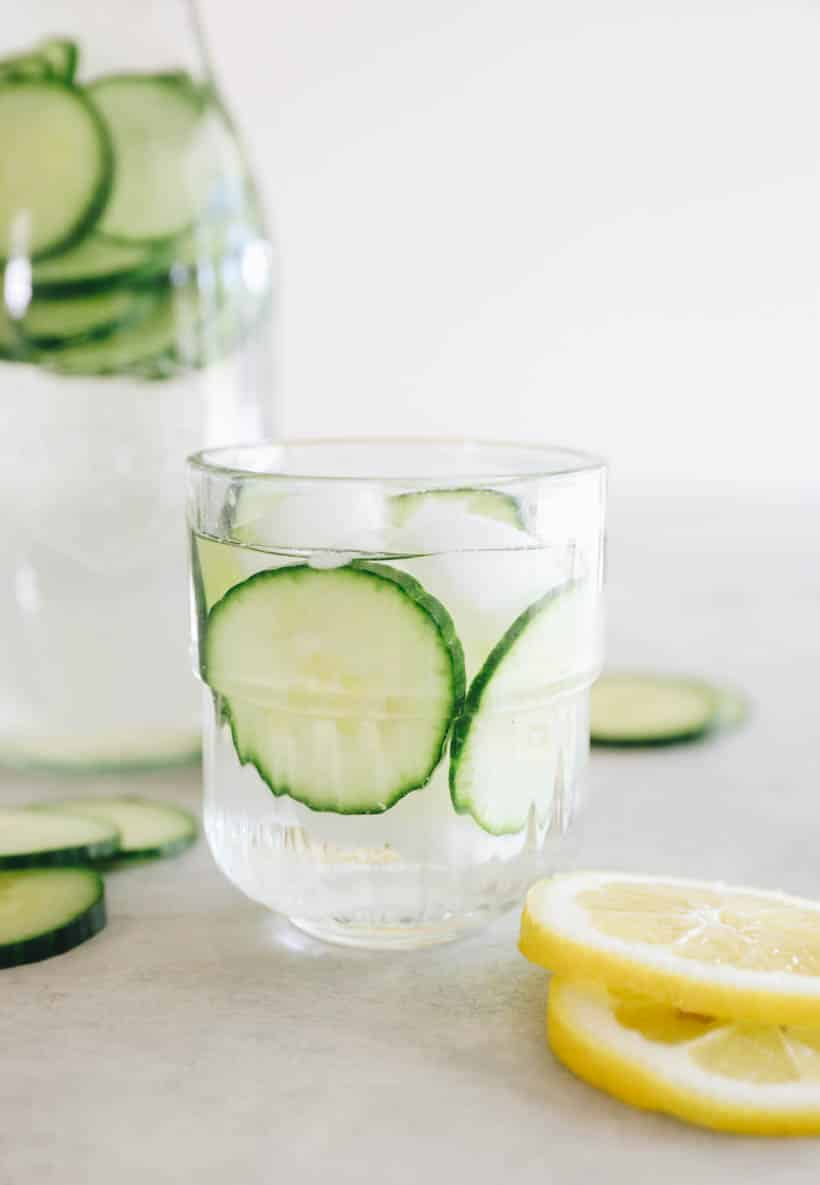 How to make cucumber water
Making cucumber water couldn't be easier! All you need is water, cucumber slices, and a large pitcher.
My favorite recipe is the following:
Recipe: 1/2 sliced ​​cucumber (about 1 cup of sliced ​​cucumbers) in 1 liter of water.
Add both the water and the cucumber to a large pitcher. Use a wooden spoon to mix. Feel free to add any plugins, as you wish (listed below)
Cucumber Water Supplements
This cucumber water recipe tastes delicious on its own, but there are a few things you can add to it to change up or add flavor. Here are some ideas:
use fruit – from lime and lemon slices to berries, adding fruit to your cucumber water can bring the sweetness to balance out our flavorful cucumber. Looking to recreate spa water? Cucumber Lemon Water is the way to go! Just add 1/4 cup of lemon wedges to your cucumber water recipe.
add herbs – Fresh mint leaves, basil and rosemary taste delicious. Not that fresh herbs tend to soak up a bit faster, so plan to drink this water throughout the day.
Use sparkling water – Yes, you can use sparkling water! Feel free to replace the bubbles in equal amounts to regular water (no bubbles).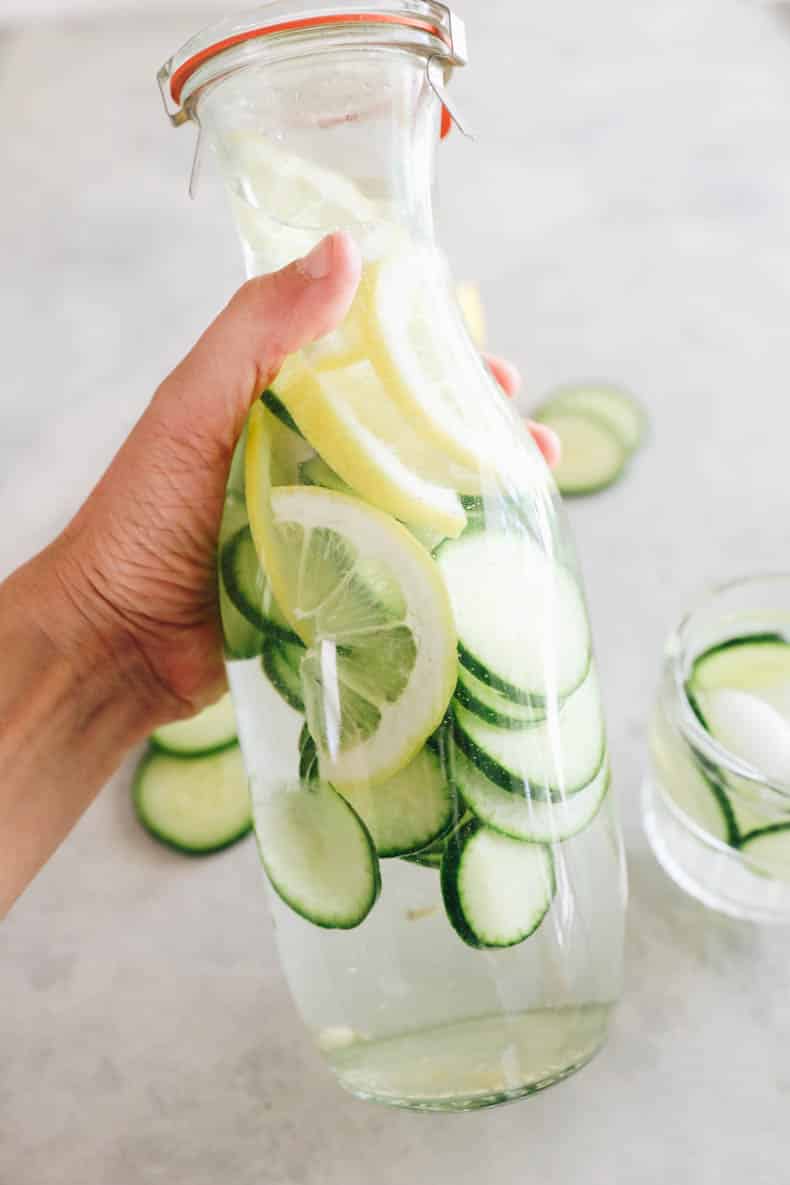 How long does cucumber water last?
Store your cucumber water in the refrigerator for 24 hours. Your cucumbers will get soggy over time, so they will have been enjoyed in 12 hours. Pour out the water and make a fresh batch if your water starts to smell a bit off.
More Drink Recipes You'll Love
Print
Cucumber Water Recipe
Looking for the ultimate infused water recipe? This cucumber water recipe is the answer! Learn how to make cucumber water with the perfect ratio of water and cucumber so you can enjoy spa water at home, every day!
Author: david lederle
Preparation time:

5 minutes

Time to cook:

0 minutes

Total time:

5 minutes

Produce:

4

portions

1

x
Category:

Drinks

Method:

Mix

Diet:

Without gluten
1/2

slicing cucumber, cut into 1/8-inch slices (barely

1 cup

)

1

liter of water
Accessories: See ideas above. Use about 1/4 cup of add-ins.
Add all ingredients to a large pitcher.
Store in the fridge for at least 1 hour to allow the flavors to infuse.
Enjoy it in 24 hours or less.
The recipe can easily be doubled or tripled.
Keywords: cucumber water, cucumber water recipe, how to make cucumber water, spa water
JOIN THE THM NEWSLETTER
Join over 20,000 members of the THM community to get access to exclusive recipes, healthy lifestyle tips, and behind-the-scenes news from our team!