Do you need ideas for vegetarian dinner recipes that are healthy, quick and easy to prepare at home? Whether you're looking for Mediterranean-inspired pasta, spicy Mexican food, or hearty vegetable salads, these quick 30-minute vegetarian meals always hit the spot! Going meatless has never tasted so good.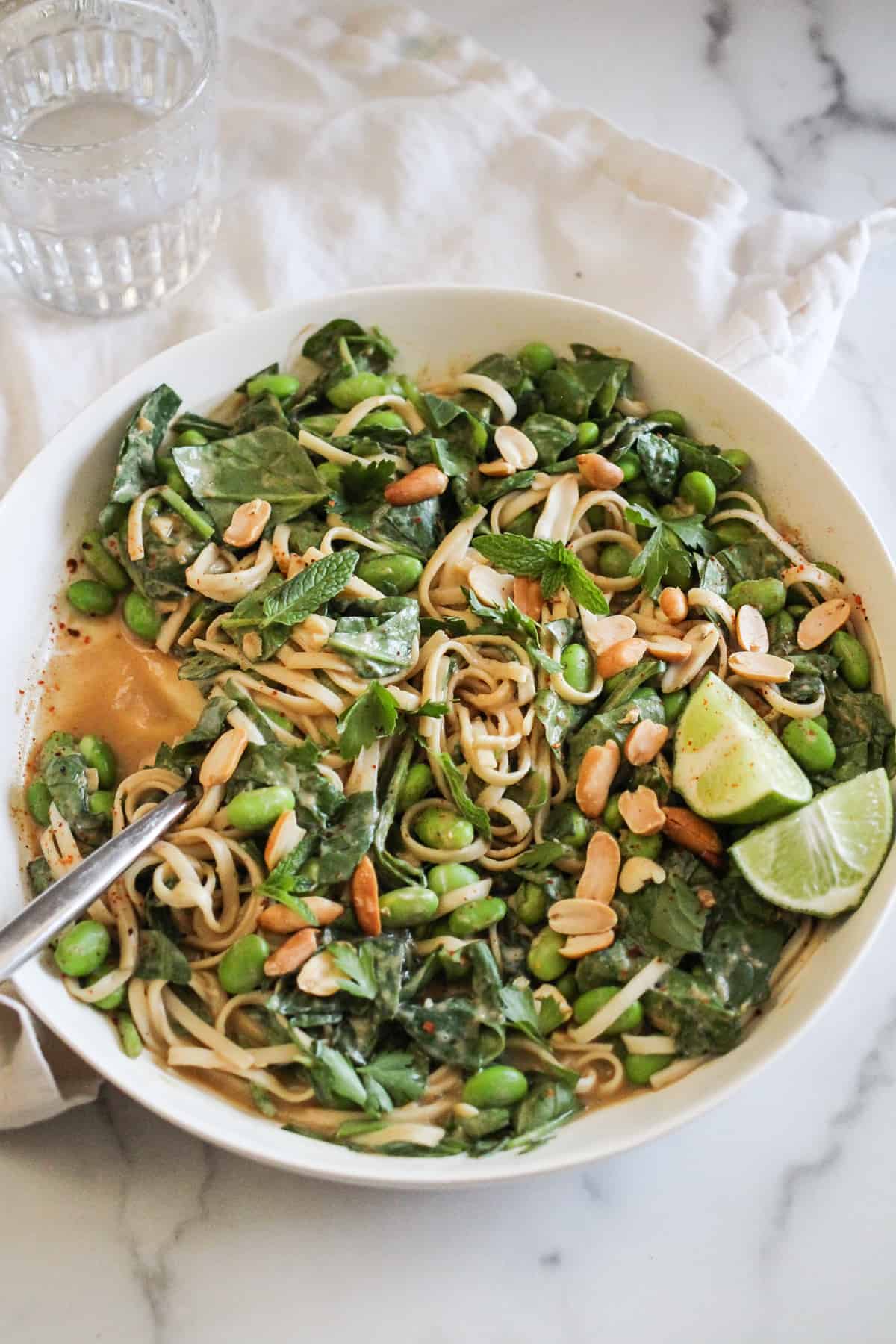 Even if you love to cook, there are days when you just don't have the time or energy to spend hours in the kitchen. (Looking at you new moms!)
As a dietitian, I'm a big advocate of cooking at home when you can, but that doesn't mean you have to make something "from scratch" every night of the week.
There is absolutely nothing wrong with simple, last-minute vegetarian dinners. Rather, these 30-minute vegetarian meals are balanced, flavorful, and packed with health-promoting nutrients.
Top tip: Stock the pantry with convenient vegetarian staples like canned beans, pasta and frozen vegetables for quick dinners you can make and cook in 30 minutes or less.
Find my complete vegetarian shopping list with more shopping tips here.
Jump to:
What should I eat for dinner as a vegetarian?
Some of the best vegetarian dinners are pasta with chickpeas, vegetable curry with tofu, hearty grain salads, and Mexican-inspired dishes with beans and avocado.
If you want to feel full and satisfied after a vegetarian meal, try including all of these food groups:
Protein – beans, chickpeas, lentils, dried peas, tofu, tempeh, edamame, cheese, eggs
Starchy carbohydrates – pasta, quinoa, farro, bread, sweet potato, rice, tortillas
Fat – avocado, nuts, peanut butter, tahini, olive oil, seeds, full-fat dairy
Produce – all the fruits and vegetables are fantastic (fresh, canned and frozen)
The 30-minute vegetarian meals below are great options, so let's get to it!
Quick and easy Italian inspired comfort food! There is nothing simpler than pasta with spinach and peas topped with pecorino romano cheese and freshly ground black pepper.
Vegetarian Burrito Bowls are simple and satisfying for a 30-minute weeknight dinner. Try this version with spicy crumbled tempeh, corn, and all the best Mexican-inspired toppings.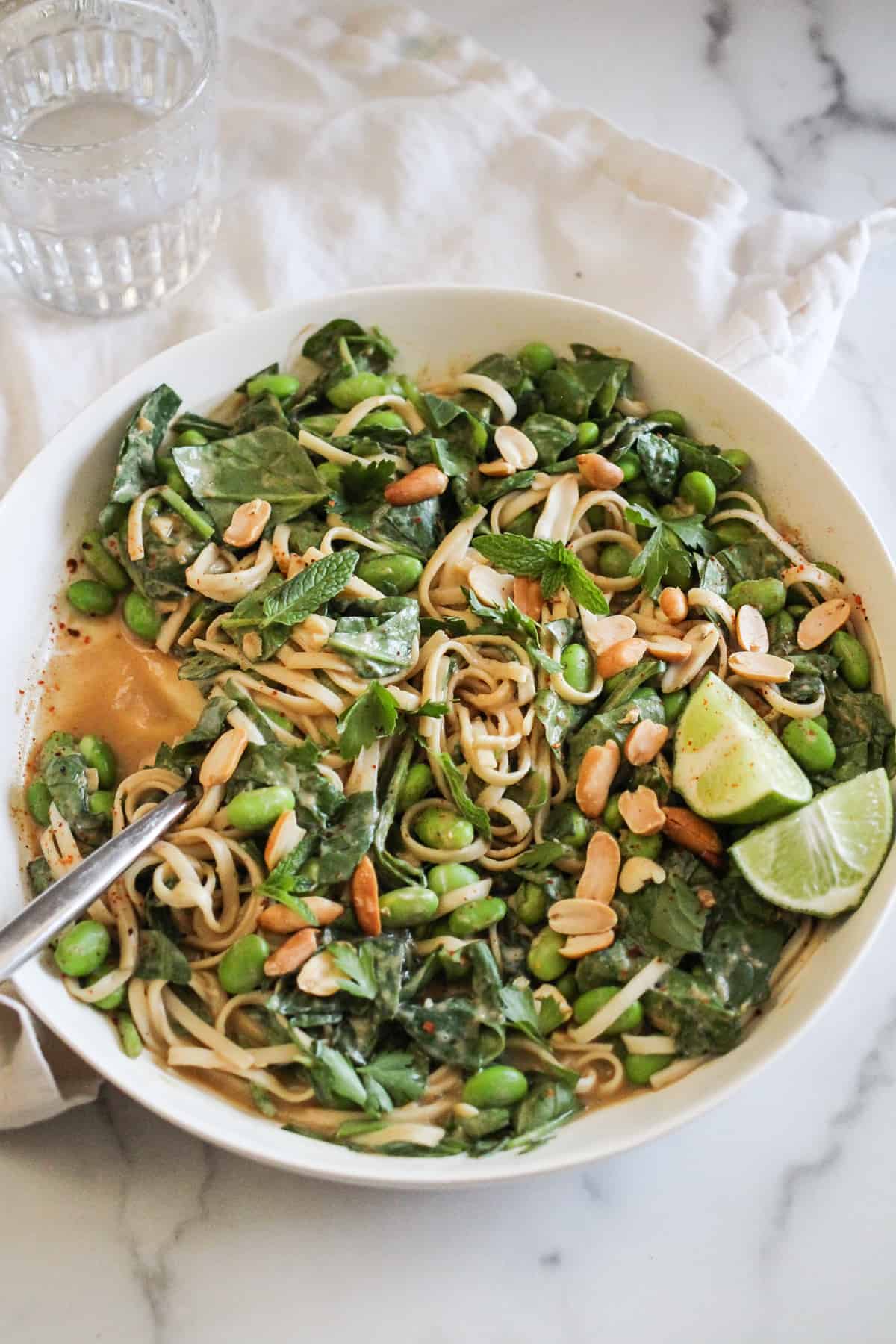 One of the fastest vegetarian dinners out there! These Asian-inspired Thai peanut noodles are tossed with protein-rich vegetables and edamame beans. (Find edamame at the grocery store near the frozen veggies!)
Here's a simple vegetarian meal idea that works for breakfast, lunch, or dinner. Top toasted bread with creamy avocado puree, canned beans, and sautéed mushrooms for a balanced dish in 10 minutes.
Hello, Mediterranean-inspired comfort food! This easy 20-minute pearlized couscous comes with just one pot and minimal ingredients. Leftovers are also great for lunch the next day.
The flavors of a vegetarian sushi roll are ready to enjoy in minutes with this deconstructed vegan sushi salad bowl. Sometimes you can't beat takeout at home!
Brussels Sprout Orzo is a quick and easy vegetarian dinner inspired by the flavors of the Mediterranean. Simply mix lemon orzo pasta with chickpeas, feta, brussels sprouts, and walnuts.
For a no-fuss, five-minute meal for one, try this No-Cook Summer Strawberry Salad with chickpeas, mozzarella balls, and fresh basil tossed in a spicy balsamic dressing. A great option for meal prep!
This cheesy baked pasta is packed with flavor and texture from grilled poblano peppers, sweet corn, and crunchy pecan crumbles. It's like adult mac and cheese!
Bored of your usual pizza night routine? Switch things up with this vegan pesto pizza topped with juicy blackberries, fresh basil, and toasted pine nuts.
This dairy-free and gluten-free main meal is ideal for busy weeknights. Sautéed Brussels sprouts with roasted chickpeas and a creamy lemon-tahini sauce, plus a handful of sunflower seeds and dried fruit for flavor and texture.
This vegetable curry recipe may be quick, but it's still packed with nutrients and Indian-inspired flavor. Crispy slow-fried tofu with bok choy in a creamy mango-lime kefir sauce. Serve with pre-cooked rice for a complete meal.
Looking for an awesome vegetarian sandwich idea? Try this combination with fresh mozzarella cheese and juicy heirloom tomatoes drizzled with a sweet and tangy cranberry balsamic sauce. Perfect for a quick summer dinner!
Say hello to your new favorite vegan salad! This Easy Edamame Salad is quick, balanced, and filling. With edamame, quinoa, and peanuts, it's easily a complete meal on its own. If you're looking for a plant-based salad that's anything but bland and boring, this is the one for you!
Here's one of the best Mexican-inspired vegetarian dinners that's easy to make at home! This quesadilla is filled with pinto beans, cheese, and a colorful mix of crunchy vegetables. Serve it with a flavorful avocado-lime cream sauce for dipping, and you have a complete and delicious meal that even carnivores will love!
More Vegetarian Meal Ideas
For more easy recipes, check out my roundups of vegetarian meal prep ideas and the 31 Best Easy Healthy Veggie Lunches for Work.