This easy Greek Pasta Salad is loaded with cherry tomatoes, cucumber, red onion, olives, and feta, all tossed in a homemade Greek dressing. It's the perfect side dish for all your summer potlucks!
If you're a fan of Greek salad, you'll love this Greek Pasta Salad recipe! It has all the classic ingredients you'd want, like tomatoes, cucumber, red onion, green bell pepper, and feta, but with the addition of pasta.
It's the perfect salad to keep stocked in your fridge all summer long! It's great for meal prep and can be served for lunch or dinner all week long, but it's also an amazing make-ahead side dish to bring to all your summer cookouts.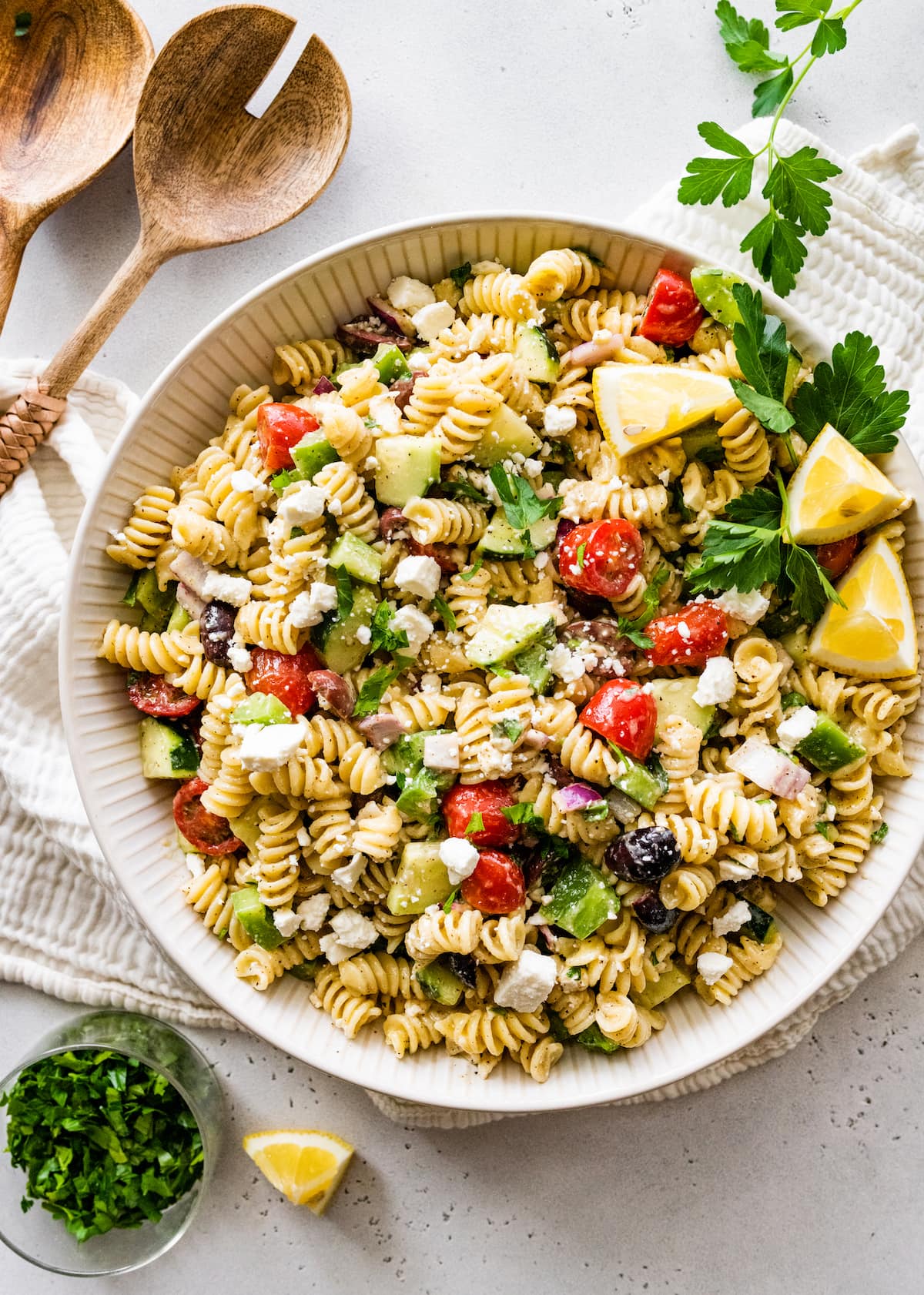 Why you will love this recipe
It has all the classic flavors of the traditional Greek salad, only the pasta fills it up more.
It stores well in the refrigerator, making it ideal for meal prep.
It's the perfect dish for all your summer barbecues and potlucks!
It can be served as a side, but it's also filling enough to be enjoyed as a full meal.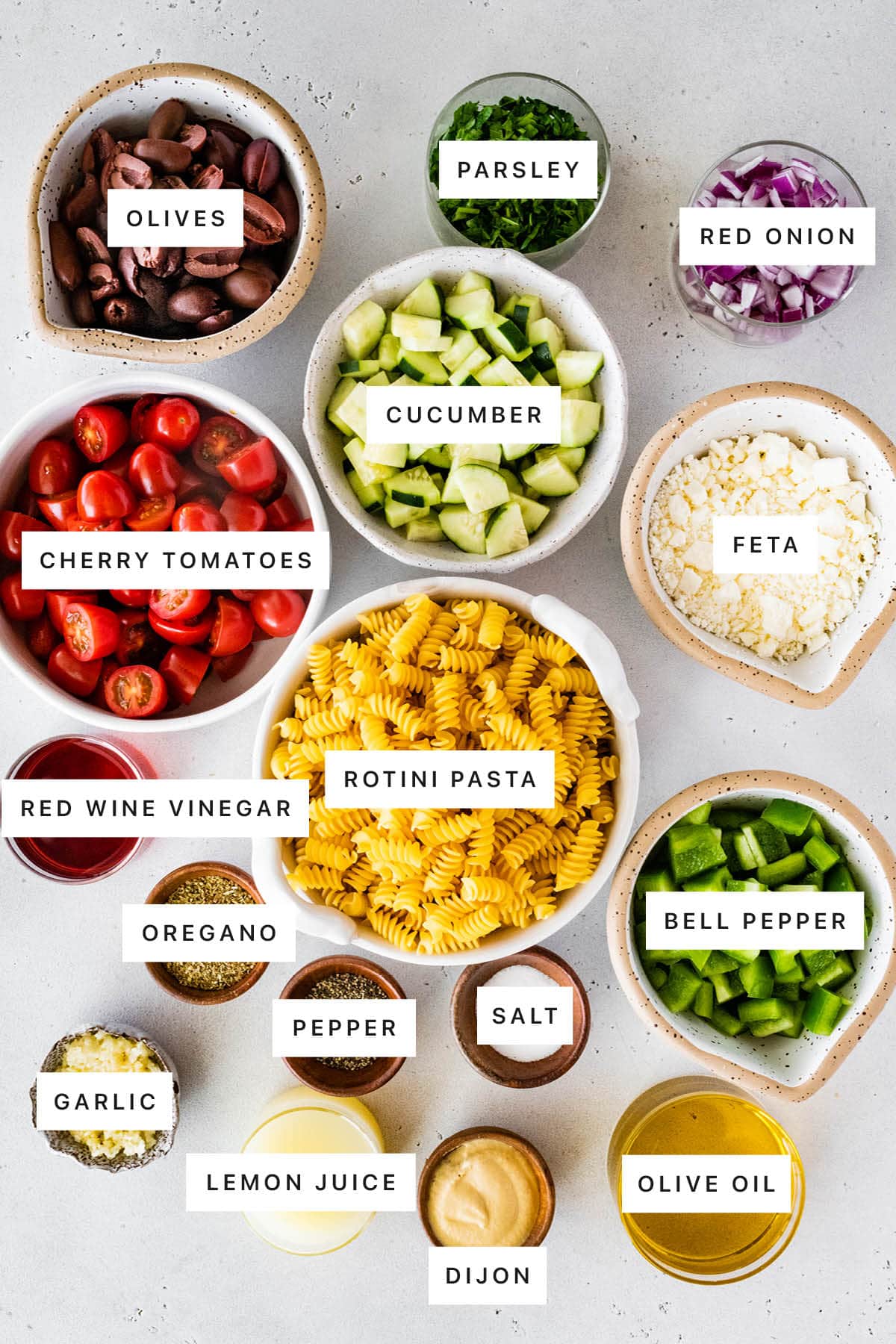 Ingredients needed
rotini pasta – I love using rotini pasta for this recipe because the spirals adhere so well to the dressing and other ingredients. However, you can use any short pasta shape you like, such as penne or bowtie.
Cherry tomatoes – these juicy tomatoes add a burst of sweetness and color. You can also use grape tomatoes if you prefer.
Red onion – gives the salad a pop of flavor and a bit of crunch.
cucumber – adds a refreshing crunch. Feel free to use regular, English, or Persian cucumbers.
green pepper – provides a bit of bitterness that complements the other flavors. You can also use red or yellow bell peppers for a sweeter flavor if you prefer.
kalamata olives – Olives add that classic Mediterranean flavor. Kalamata olives are especially flavorful and add a touch of authenticity, but feel free to use black olives instead.
fresh parsley – I love to add fresh herbs to my dishes whenever possible and fresh parsley goes perfectly with the rest of the ingredients in this salad.
crumbled feta You can't eat a Greek salad without feta! This cheese adds a salty and spicy flavor that is irresistible. Feel free to use fresh feta cubes or crumbled feta.
bandage – We are making a homemade Greek dressing for this salad, which is made by mixing (or whisking together) red wine vinegar, lemon juice, garlic, Dijon mustard, oregano, salt, pepper, and extra virgin olive oil.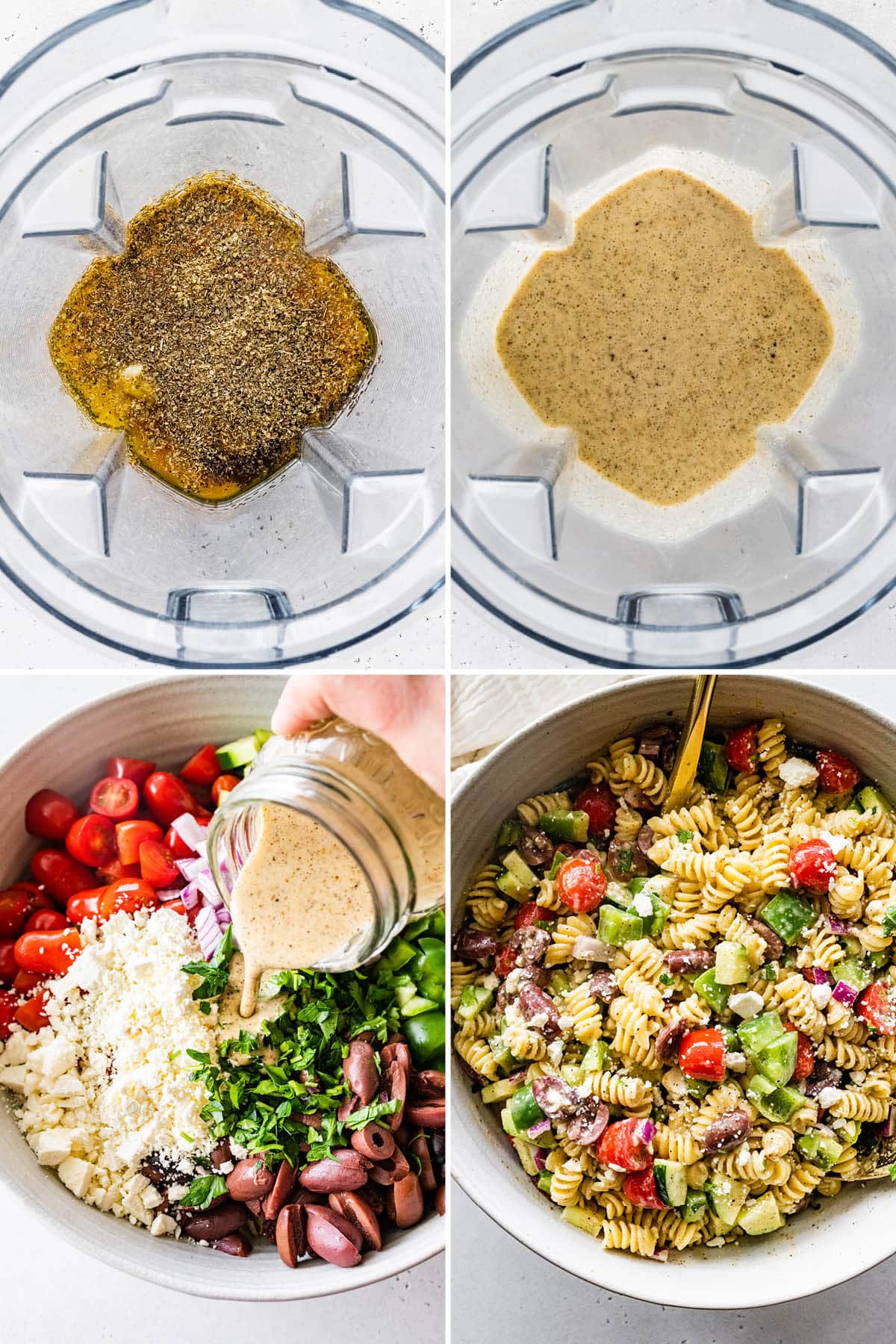 How to do
Cook pasta: Bring a large pot of salted water to a boil and cook the rotini pasta according to package directions until al dente. Drain the pasta and rinse with cold water to stop the cooking process.
make dressing: While the pasta is cooking, prepare the dressing. Add all the dressing ingredients to a blender and blend until everything is well combined and the dressing is smooth. If you don't have a blender, you can also mince the garlic and add all the ingredients to a mason jar, then shake or beat very well to combine.
put it all together: In a large bowl, add the cooked pasta, cherry tomatoes, red onion, cucumber, green bell pepper, olives, fresh parsley, and feta. Pour the dressing over the salad ingredients and toss gently to make sure everything is evenly coated.
Enjoy: Taste the salad and add additional salt and pepper if needed. You can serve the salad immediately or allow it to cool in the refrigerator before serving to allow the flavors to blend.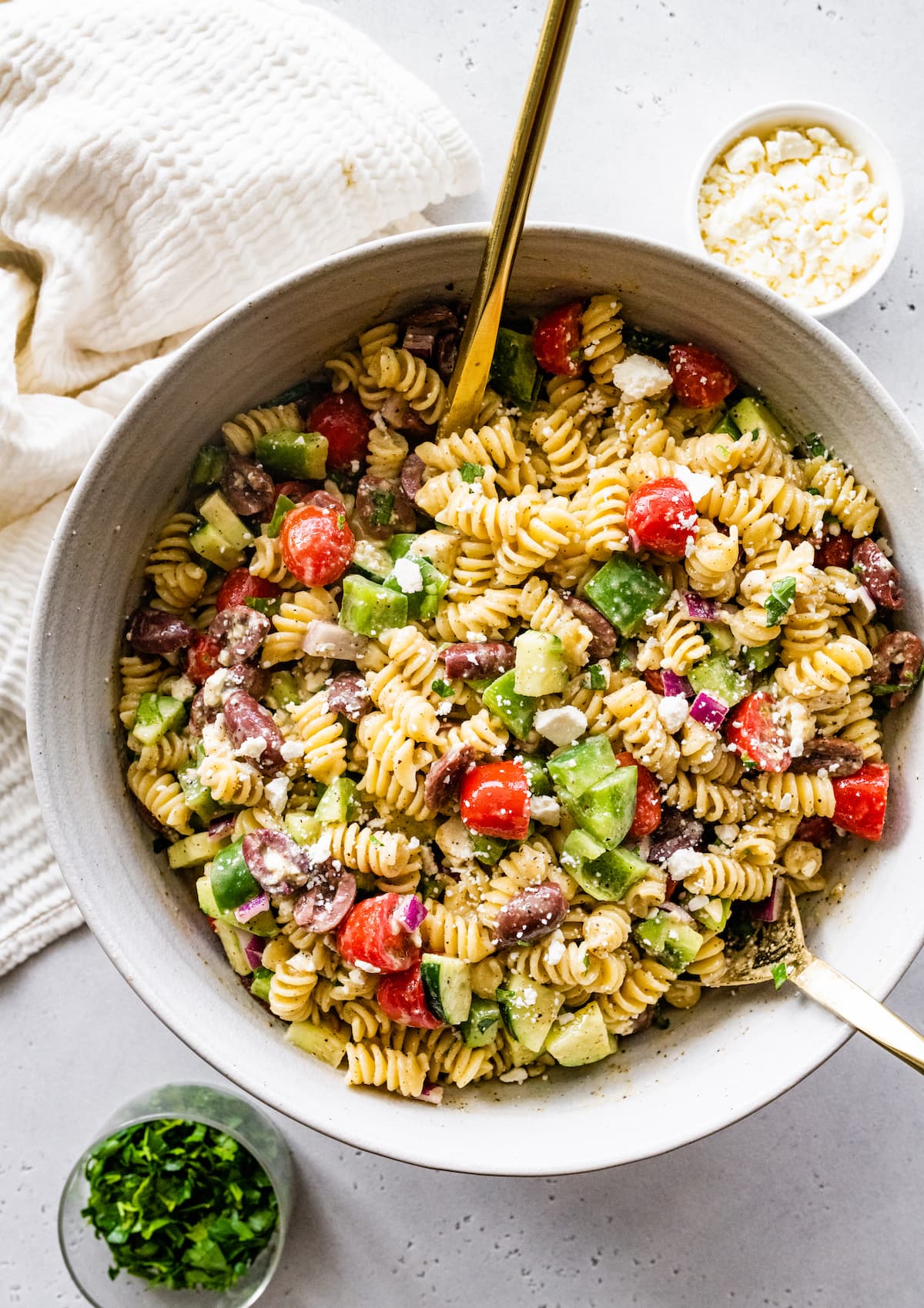 substitutions and notes
Without gluten: Need to make this pasta salad gluten-free? Use brown rice pasta or bean pasta for a protein boost! My favorite gluten-free pasta options are this Banza chickpea rotini pasta and Barilla chickpea rotini pasta.
Dairy Free: Skip the feta or use vegan feta like this Follow Your Heart Vegan Dairy Free Crumbles or VIOLIFE Just Like Feta Block.
add protein: To make this salad extra hearty and filling, consider adding shredded chicken, grilled chicken, or garbanzo beans.
Bandage: For a shortcut, use a store-bought Greek dressing, just be mindful of the ingredients, as many store-bought dressings are loaded with sugars and unnecessary ingredients. This Greek Vinaigrette from Primal Kitchen looks like a good store-bought option.
Vegetables: Do you want to swap some of the vegetables? Go for it! Yellow onion, red or yellow bell pepper, zucchini, baby spinach, and broccoli would all be great additions to this salad!
olives: Not a fan of kalamata olives? Use black or green olives instead! You can also skip the olives altogether and add roasted red peppers or artichoke hearts instead.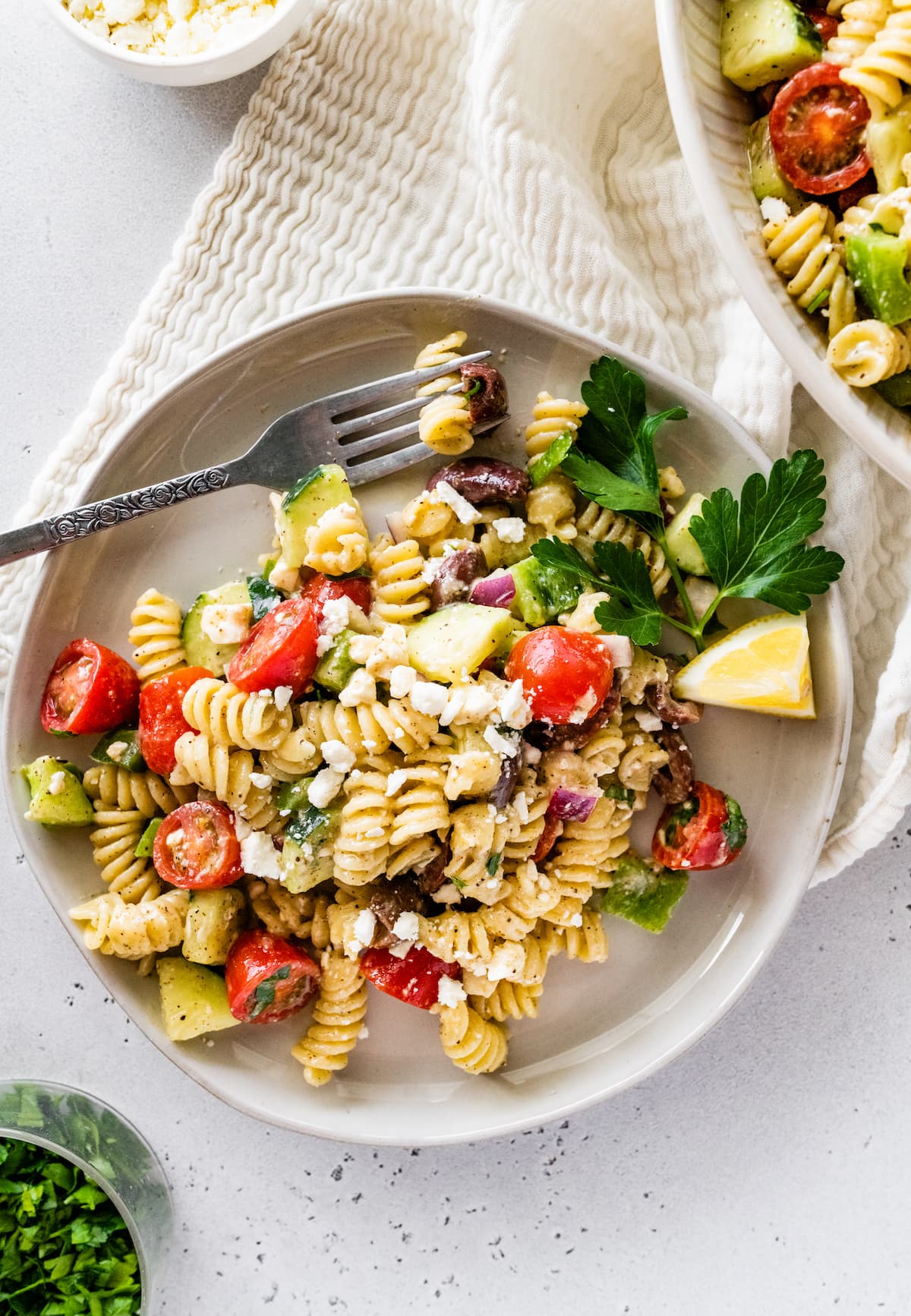 What to serve with this Greek Pasta Salad
As I mentioned above, this salad would pair perfectly with just about any protein and would make a great addition to your summer barbecues or potlucks. Here are some serving ideas:
Burgers: Serve this pasta salad as a side with burgers like these Black Bean Burgers, Tempeh Burgers, Turkey Burgers, or Salmon Burgers.
Chicken: this salad would be delicious served as a side dish with chicken or with chicken added to the salad. A few ideas: apple cider vinegar chicken, air fryer chicken breast, shredded chicken.
Salmon: Blackened Salmon, Air Fryer Salmon, Balsamic Glazed Salmon, Maple Glazed Salmon.
other sides: If you're looking to serve this Greek Pasta Salad at a summer potluck, here are some additional sides you can serve it with: Grilled Sweet Potatoes, Mint Fruit Salad, Black Bean and Corn Salad, Mexican Corn Salad, and blueberries.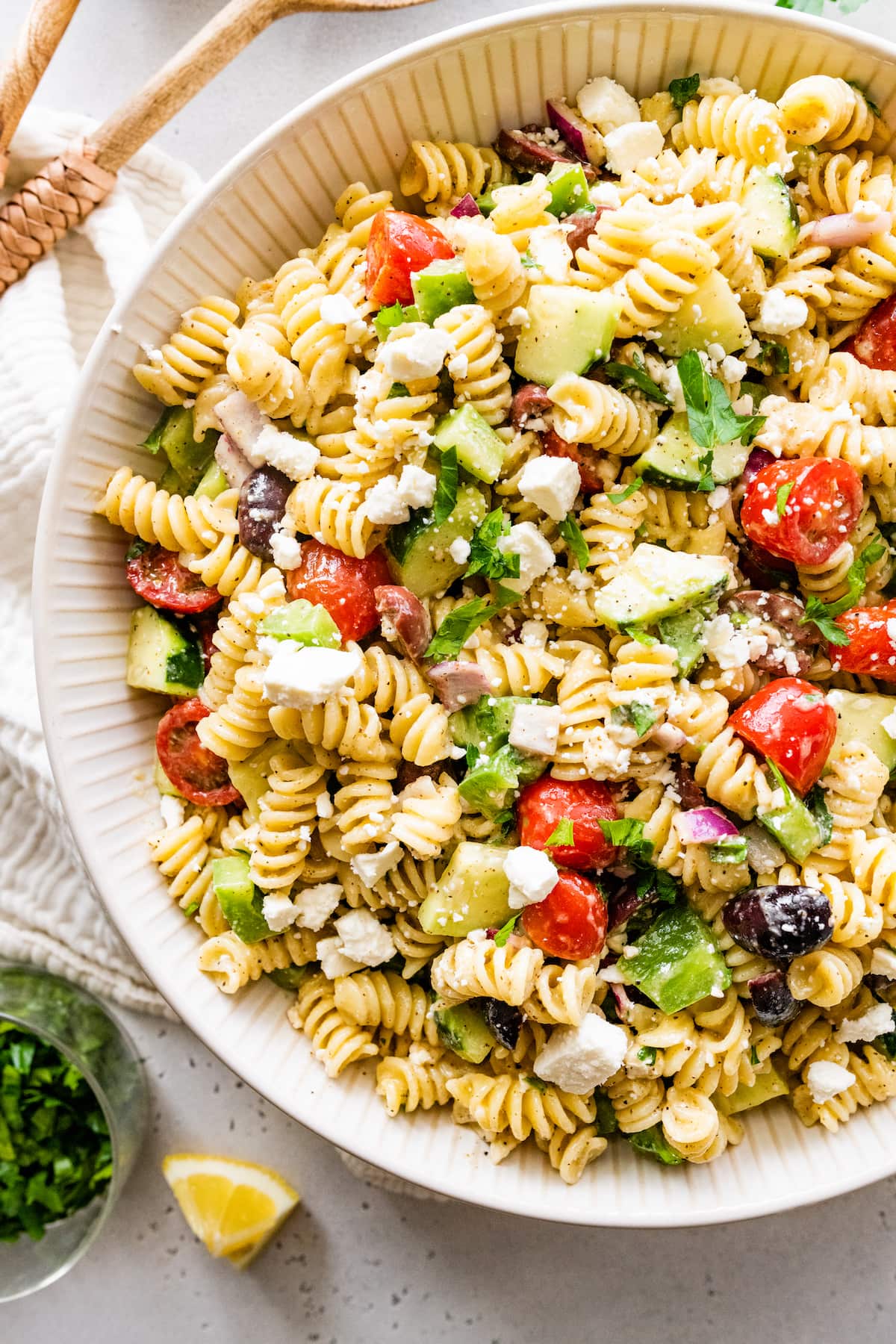 How to store
This salad stores very well in the fridge, making it great for meal prep!
To do it in advance: You can prepare the salad the night before and let it cool in the fridge until serving time. Like most pasta salads, it gets better when it sits!
to save leftovers: Store leftovers in an airtight container in the refrigerator for 4-5 days.
Healthier Summer Salads
Be sure to check out all the pasta salad recipes as well as the complete collection of salad recipes on EBF!
Cook pasta according to package instructions.

While the pasta is cooking, make the dressing by adding red wine vinegar, lemon juice, garlic cloves, dijon mustard, oregano, salt, pepper, and oil in a blender. Mix until combined and smooth.

Add the drained and cooled pasta to a large bowl with the tomatoes, onion, cucumber, bell pepper, olives, parsley, and feta.

Add the dressing on top and toss gently to coat. Taste and add additional salt and pepper, if needed. Serve immediately or place in the refrigerator to chill before serving. Store in the refrigerator for up to 5 days.
Service: 1/8 recipe | Calories: 433kcal | Carbohydrates: 48gram | Protein: elevengram | Fat: 23gram | Saturated fat: 4gram | Polyunsaturated fat: 2gram | monosaturated fat: 10gram | Cholesterol: 13milligrams | Sodium: 509milligrams | Potassium: 163milligrams | Fiber: 3gram | Sugar: 4gram
Nutrition information is automatically calculated and should only be used as an approximation.