This Grilled Chicken Caesar Salad combines crispy romaine lettuce, marinated grilled chicken, and house-made sourdough croutons, all tossed in a creamy, healthy Caesar dressing.
When I was trying out my grilled chicken breast recipe, I ended up making a chicken caesar salad one day with leftover chicken and that's the recipe I'm sharing with you today!
For this recipe, I decided to go the more traditional route and use romaine lettuce as the base of this salad, which is then topped with a creamy homemade dressing, sourdough croutons, and grilled chicken. The combination is very good!
I love making this salad for lunch or a light dinner. And the best part is that it's great for meal prep because you can make the croutons, dressing, and chicken ahead of time for quicker assembly.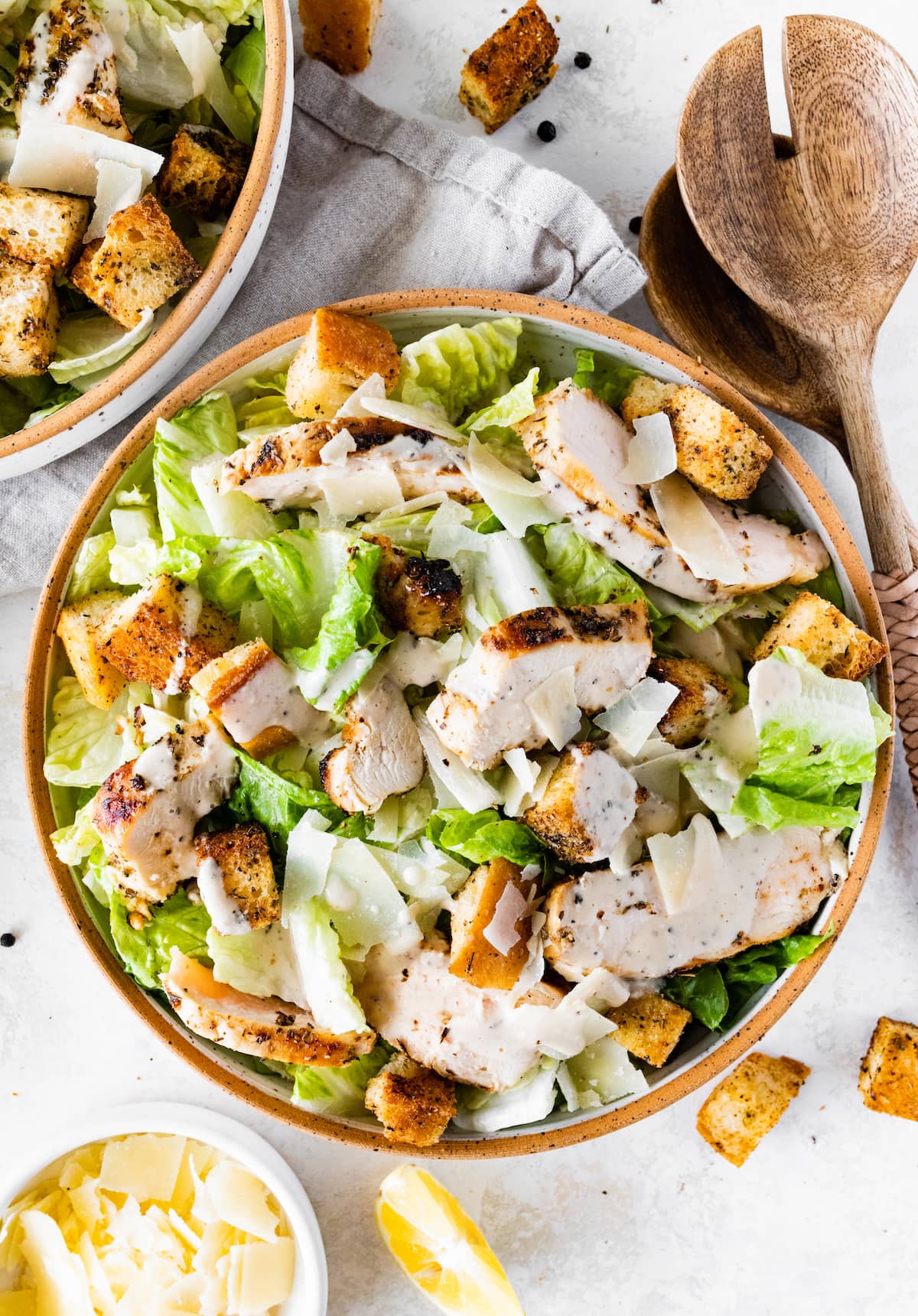 Why you will love this salad
Tastes like a restaurant-quality Caesar salad at home, but it's healthier!
It comes together quickly, especially if you make some of the components ahead of time!
It can be served as a salad or main course for lunch or dinner.
It is fully customizable. Feel free to swap in and add any toppings.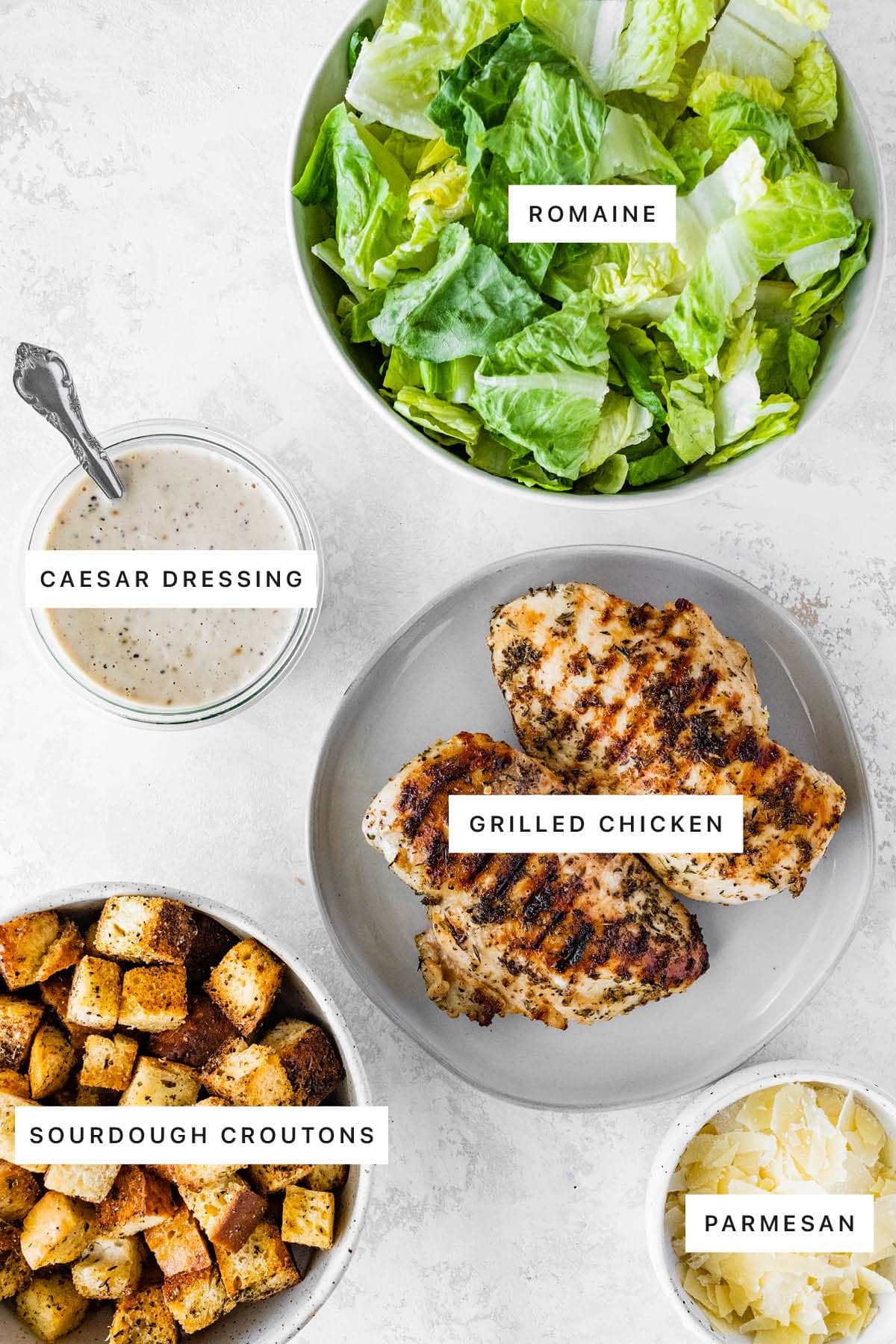 Ingredients needed
grilled chicken – For the chicken we are following my recipe for grilled chicken breasts.
sourdough croutons – I love making my sourdough croutons for this salad. They are full of flavor and add crunch and texture to this salad.
caesar dressing – My homemade caesar dressing is made healthier with Greek yogurt instead of mayonnaise and no processed oils, but it still has all the classic flavors you'd expect from a caesar dressing. It is creamy and so delicious!
romaine lettuce – the traditional base for a Caesar salad, providing plenty of crunch.
Parmesan cheese – Finish the salad with a few freshly cut Parmesan slices for an authentic Caesar salad feel. Use a vegetable peeler for fine, delicate shavings.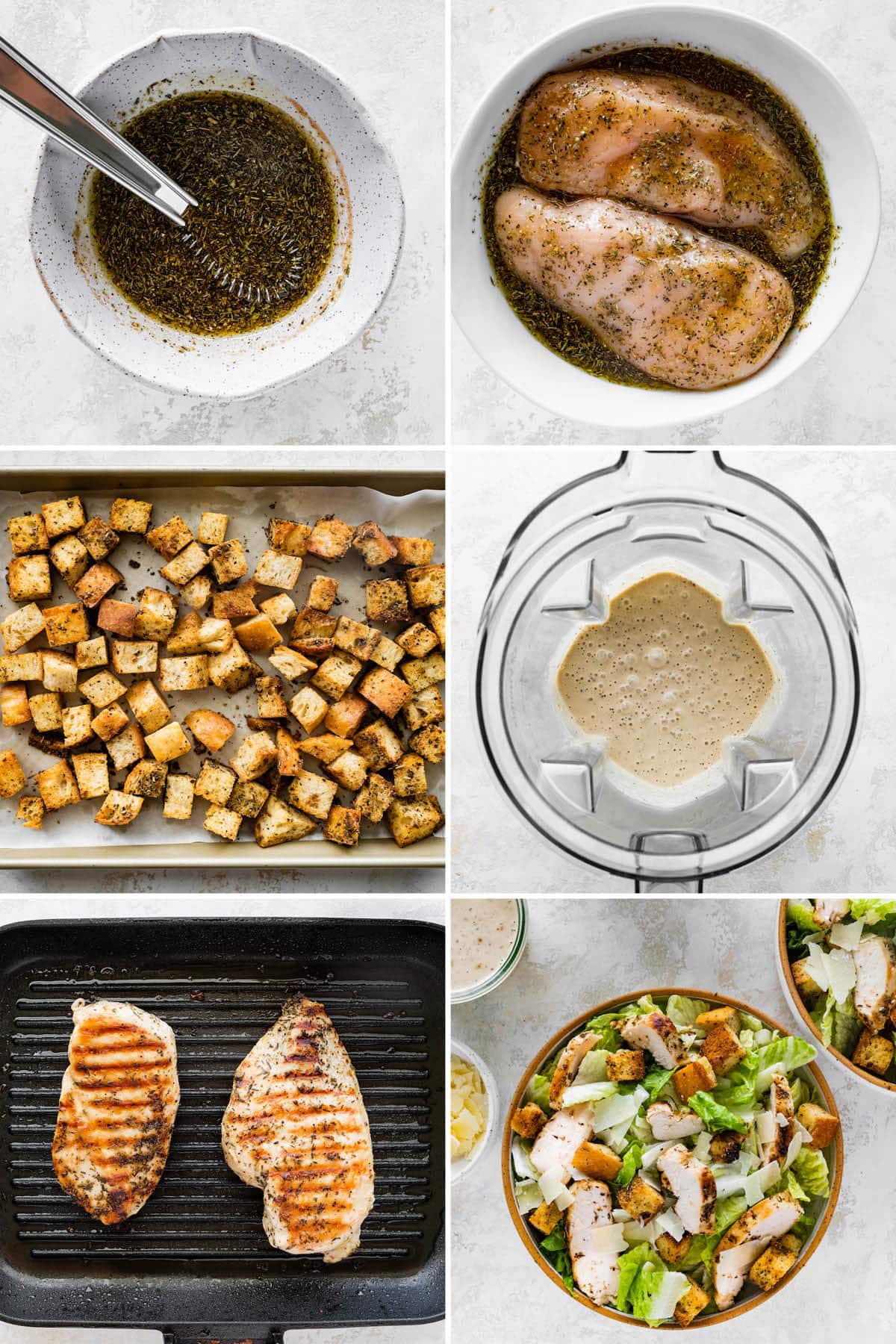 How to do
Cook chicken: Marinate and cook the chicken according to the instructions below.
Make croutons: Bake sourdough croutons in the oven, following the recipe below.
Make dressing: Mix dressing ingredients until smooth and creamy.
Assemble + serve: Cut the romaine lettuce into small pieces and add them to two bowls. Top with sliced ​​chicken breast, sourdough croutons, and grated Parmesan cheese. Drizzle with Caesar dressing and serve!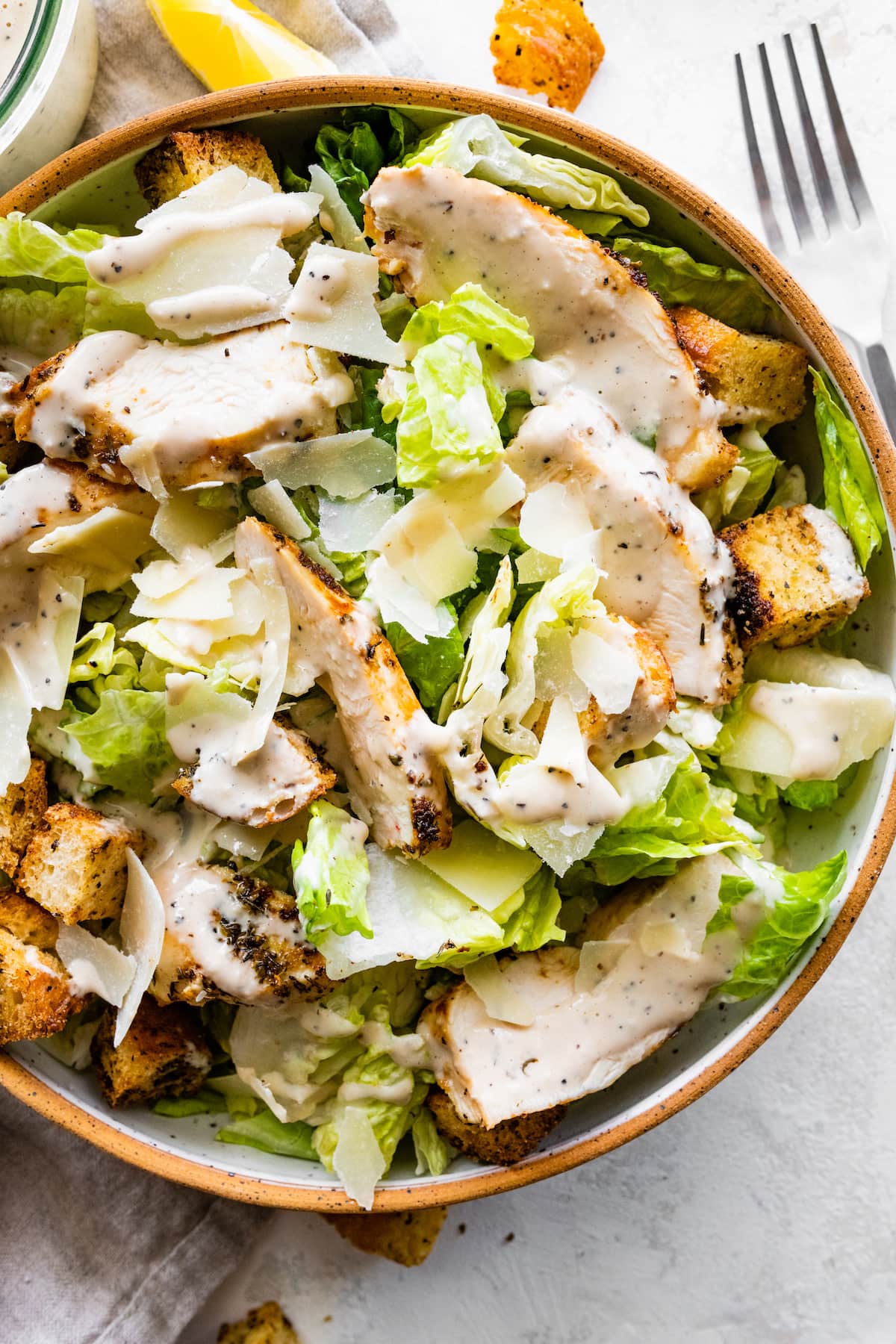 substitutions and notes
Grilled chicken – if you don't want to grill your chicken, feel free to bake it in the oven or cook it on the stove. If you want to cook your chicken in an air fryer, follow my Air Fryer Chicken Breast recipe. For a shortcut, use shredded rotisserie chicken or follow my recipe for slow cooker shredded chicken.
Change the protein – feel free to swap out the chicken with another protein of your choice like salmon, tuna, or shrimp. This blackened salmon would go perfectly with this Caesar salad. For the shrimp, follow my Shrimp Caesar Salad recipe and for the tuna, just add some drained canned tuna.
Romaine lettuce – Do you want to expand the nutritional value of this salad? Swap the romaine lettuce for kale, arugula, or spinach. I love this Kale Caesar Salad!
Bandage – Want to skip the homemade Caesar dressing? Feel free to use your favorite store-bought caesar dressing. Some healthier options include this Caesar Salad Dressing from Primal Kitchen or Tessemae's Organic Creamy Caesar.
add vegetables – Do you want to add more vegetables to this salad? Go for it! Broccoli, bell peppers, cherry tomatoes, avocado, or cucumbers would be great additions!
add grains – Do you want to increase the volume of this salad? Feel free to add some cooked quinoa or pasta to this salad!
Vegetarian – use a vegan caesar dressing that does not contain anchovies or eggs like this plant-based caesar dressing from Primal Kitchen or vegan caesar dressing from Gotham Greens. And swap out the protein with a vegetarian option like tempeh, tofu, hard-boiled eggs, or roasted chickpeas (these air fryer chickpeas would be perfect).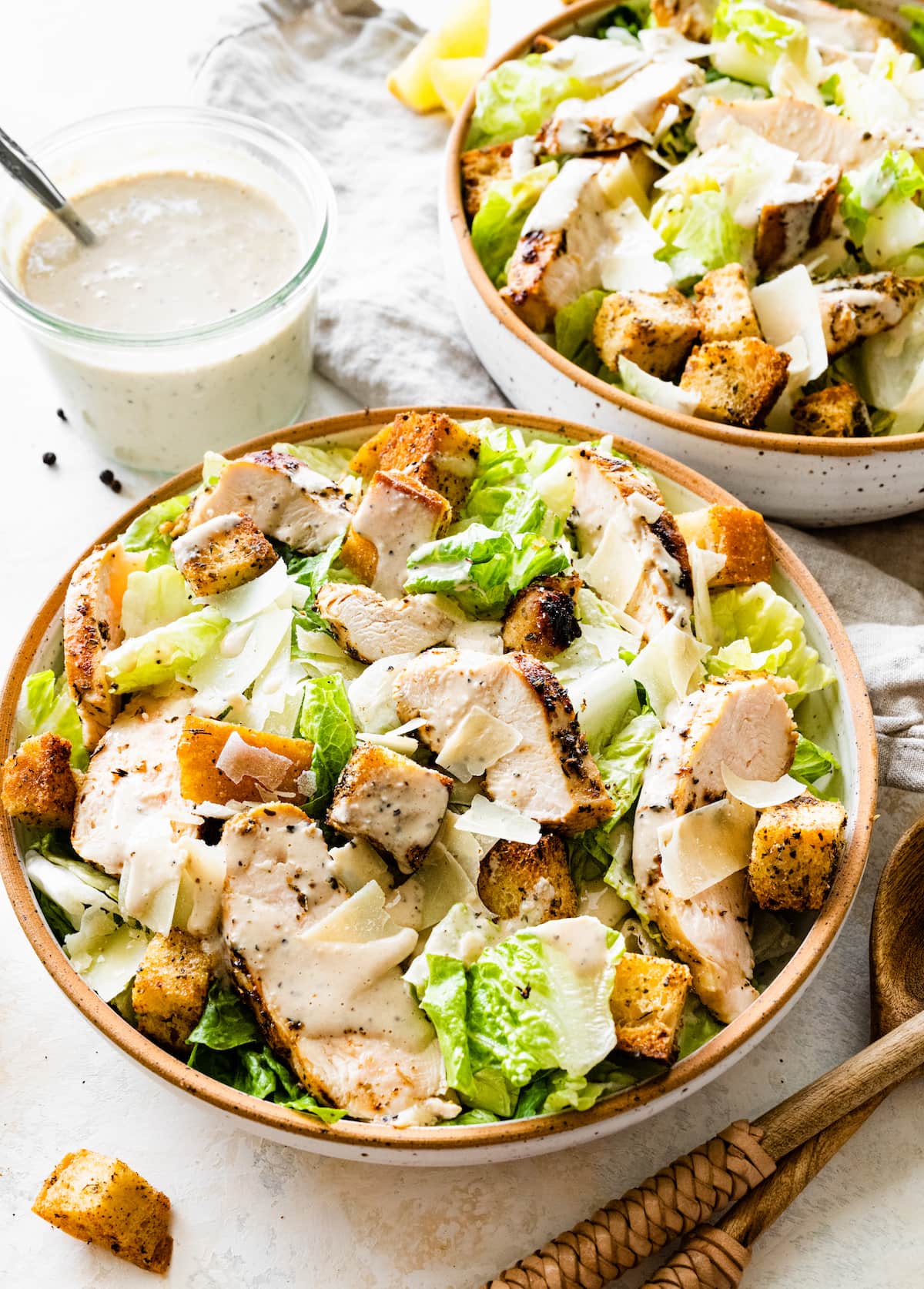 Do you have to use grilled chicken?
No not at all. If grilling isn't an option, you can still make this chicken using your stovetop or oven. While these methods won't have the smoky flavor of grilling, they will still produce a flavorful chicken dish.
stove top: On the stovetop, heat a skillet and cook the chicken, adjusting the cooking time as needed.
Oven: In the oven, preheat to 425°F, place the chicken on a baking sheet and bake for 20-25 minutes until it reaches 165°F.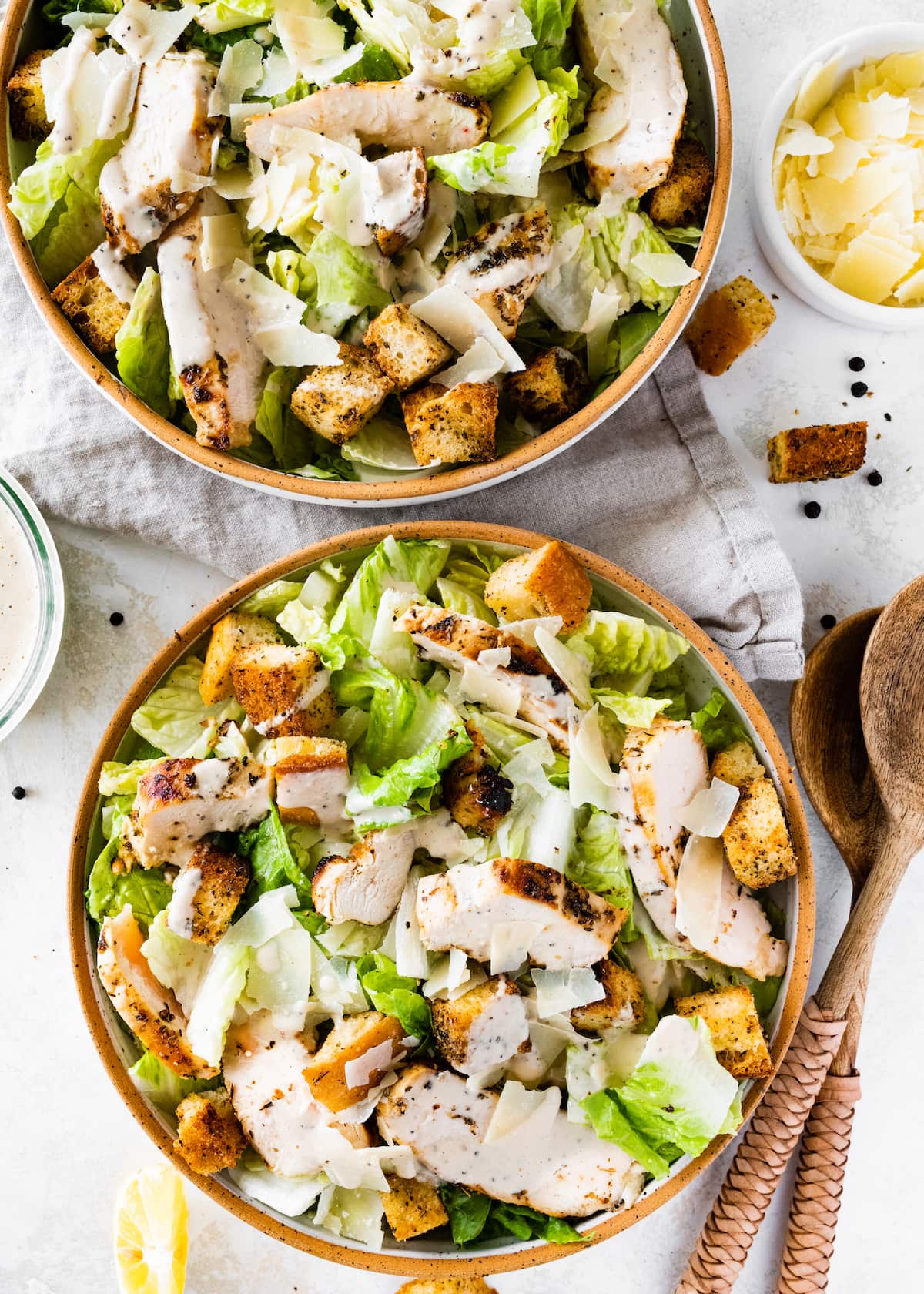 How to prepare in advance
If you want the real deal but don't have the time to prepare everything for these Chicken Caesar Salads in one night, you can prep all the components ahead of time for quicker assembly. This is what I would prepare ahead of time:
Chicken – you can make the marinade the night before you want to make this salad and let the chicken sit overnight and then cook it when you are ready to make dinner. Or you can cook the chicken 1-3 days ahead for quick preparation the night of.
Sourdough Croutons – So easy to make ahead of time! These croutons store well for up to 1 week.
Caesar dressing – Another simple component to prepare ahead of time!
How to store leftovers
This Chicken Caesar Salad recipe is great because everything stores so well in the fridge! I recommend storing each component in separate containers. Everything should last 5 days in the refrigerator. When you're ready to eat, prepare your salad and enjoy! Chicken can be served cold or warm.
More Chicken Salads to Try
More Meal-Sized Salads to Try
Be sure to check out my full collection of chicken recipes, as well as the full collection of salad recipes on EBF!
Whisk the vinegar, oil, garlic powder, thyme, oregano, salt, and pepper in a small bowl until well combined.

Place chicken in a shallow dish or 1 gallon sealable plastic bag. Add the marinade, toss to coat, and refrigerate for at least 1 hour or up to 12 hours.

While the chicken is marinating, bake the sourdough croutons.

While the croutons are baking, make the dressing by mixing all the ingredients together until smooth and creamy.

Remove chicken from marinade, shake off excess, and discard leftover marinade. Heat a grill or grill pan. Once hot, place the chicken on the grill and cook for about 5 minutes per side, or until cooked through and no longer pink. You want the internal temperature of the chicken to be 165°F.

Assemble the salad by adding a bed of romaine lettuce to two bowls. Add sliced ​​chicken breast, sourdough croutons, and grated Parmesan cheese. Drizzle with caesar dressing and enjoy!
Service: 1 salad | Calories: 575kcal | Carbohydrates: 19gram | Protein: 57gram | Fat: 30gram | Saturated fat: 7gram | Polyunsaturated fat: 4gram | monosaturated fat: 17gram | Cholesterol: 128milligrams | Sodium: 878milligrams | Potassium: 808milligrams | Fiber: 3gram | Sugar: 3gram
Nutrition information is automatically calculated and should only be used as an approximation.