This Strawberry Cheesecake Shake is thick, creamy, and requires only 5 simple ingredients. It tastes like dessert but is packed with healthy ingredients and over 20 grams of protein!
Whoever said you can't have dessert for breakfast has clearly never tried a protein-packed shake that tastes like dessert. Cue this Strawberry Cheesecake Shake.
It has all the creamy, decadent flavors of a slice of strawberry cheesecake, but in shake form that packs over 20 grams of protein. It's perfect for a quick and easy breakfast option or an amazing mid-afternoon or post-workout snack. No matter the time of day, your taste buds will thank you for making this smoothie!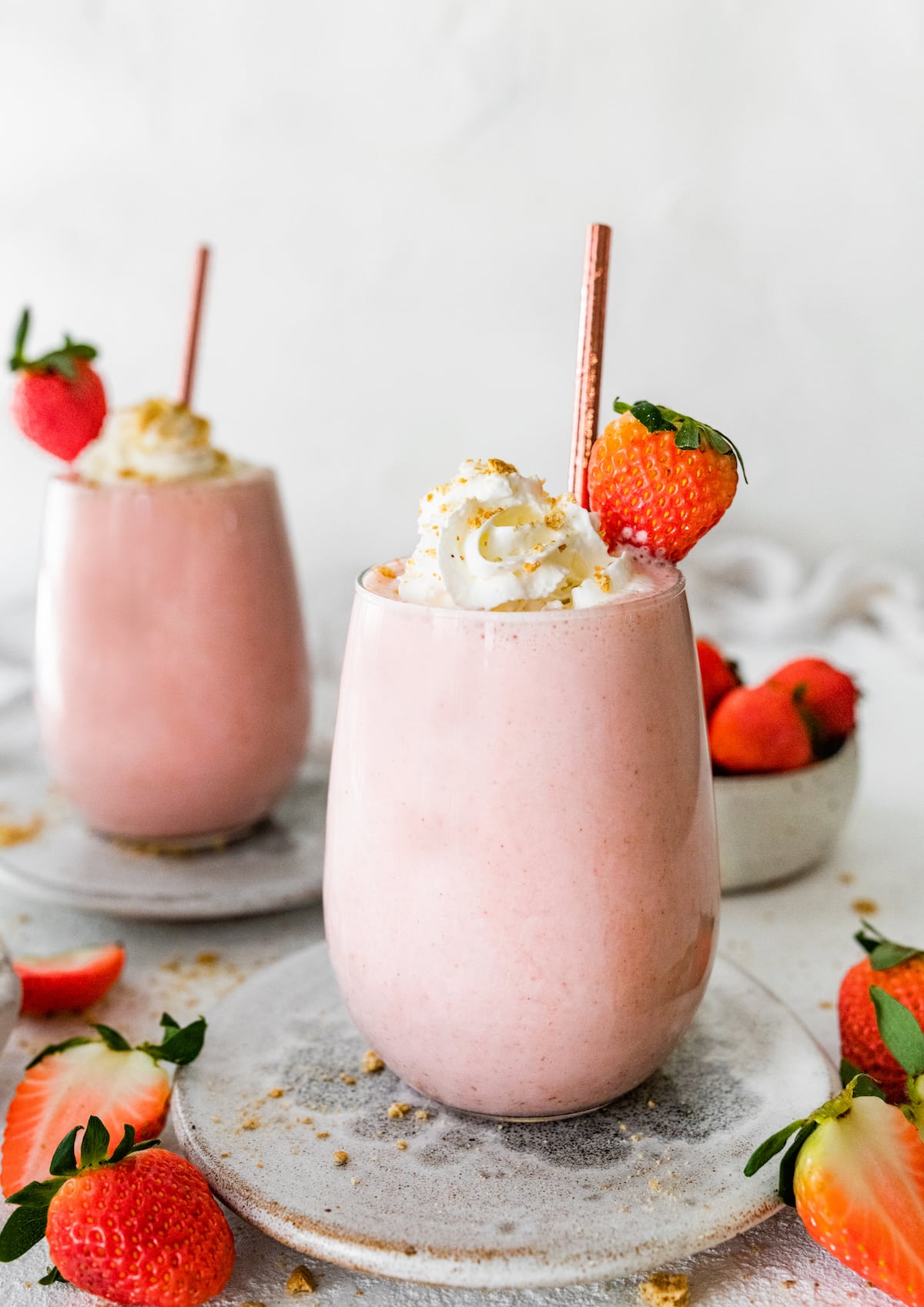 Why you will love this smoothie
tastes like dessert: Enjoy the creamy, sweet flavors of a classic strawberry cheesecake in a healthier, easier-to-drink form.
rich in nutrients: Despite its dessert taste, this shake has a healthy supply of protein, fiber and essential vitamins.
quick and easy: You only need 5 simple ingredients and a few minutes to prepare this delicious yet nutritious shake, which is perfect for an on-the-go or post-workout breakfast.
customizable– Feel free to play around with different toppings or toppings based on your dietary needs and flavor preferences.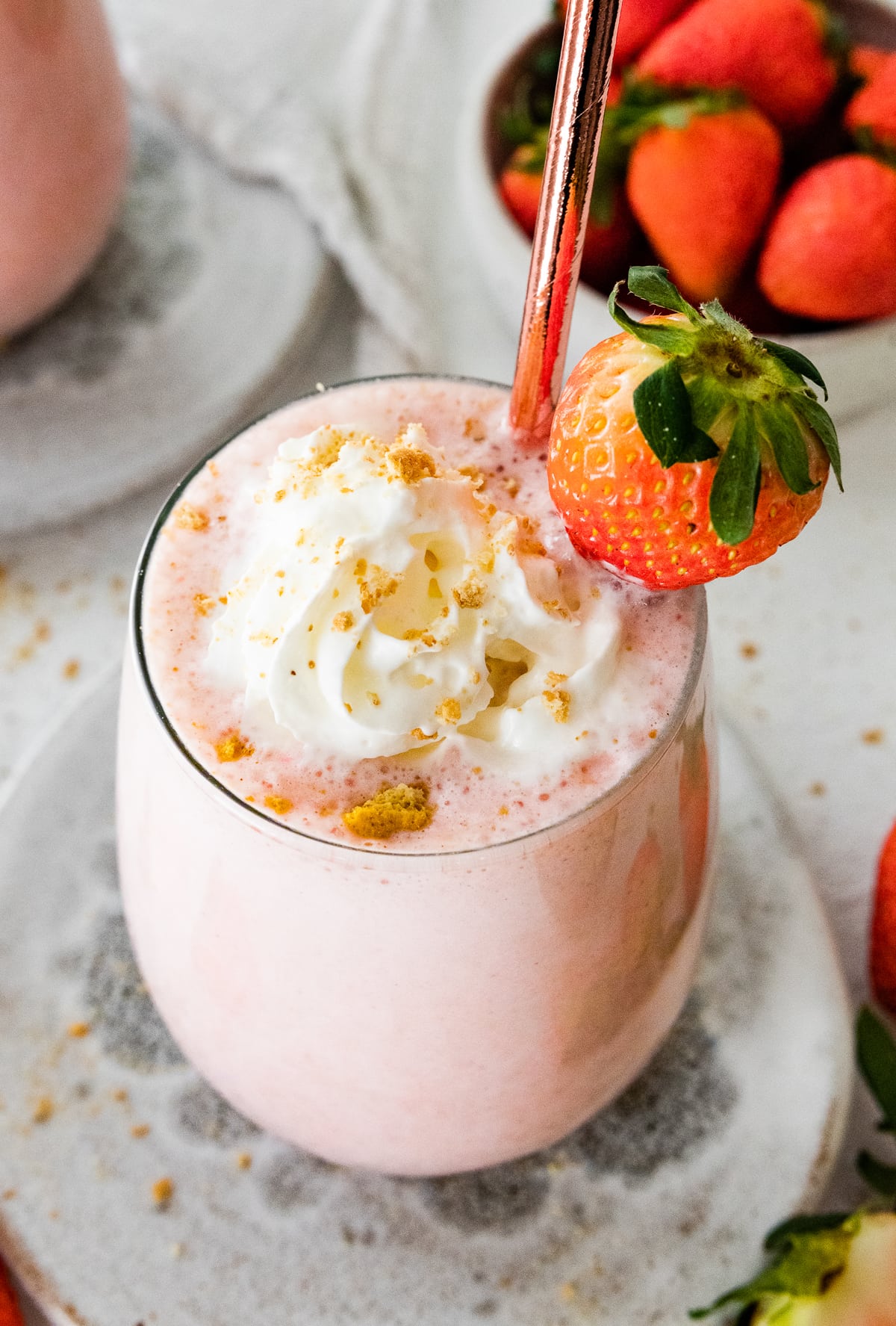 dessert for breakfast
The magic of this shake is that it tastes just like strawberry cheesecake—it's rich, creamy, and has just the right amount of sweetness. Unlike a typical slice of cheesecake loaded with sugar and fat, however, this shake is packed with protein and healthy, nutritious ingredients, making it a great breakfast option.
With ingredients like protein powder (or Greek yogurt), fiber-packed strawberries and medjool dates, and heart-healthy almond milk, you'll be packing plenty of nutrients first thing in the morning. Not to mention, cream cheese offers a healthy dose of added calcium and protein.
So yeah, you can have your 'cheesecake' and eat it too! This smoothie allows you to indulge your sweet tooth in a way that is both satisfying and healthy. Whether you're rushing to work, fueling up for a workout, or looking for an easy yet satisfying breakfast, this Strawberry Cheesecake Smoothie is a great way to start your day!
Ingredients needed
almond milk – the liquid base of the milkshake. I like to use unsweetened almond milk so that I can control the amount of sugar in my smoothie.
frozen strawberries – the star of this recipe! The frozen strawberries help thicken and cool this smoothie.
vanilla protein powder – adds a great boost of protein and gives this shake its dessert flavor. I personally love Nuzest protein powder. It's plant-based, has minimal ingredients, and tastes delicious. (Use code eatbirdfood for 15% off your order.) With that being said, feel free to use your favorite brand of protein powder.
cream cheese – which gives this shake its distinctive rich cheesecake flavor.
medjool date – For a touch of natural sweetness, I added a medjool date that blended perfectly with the rest of the ingredients.
toppings – these are completely optional, but I added crushed whole wheat crackers, fresh strawberries, and coconut whipped cream.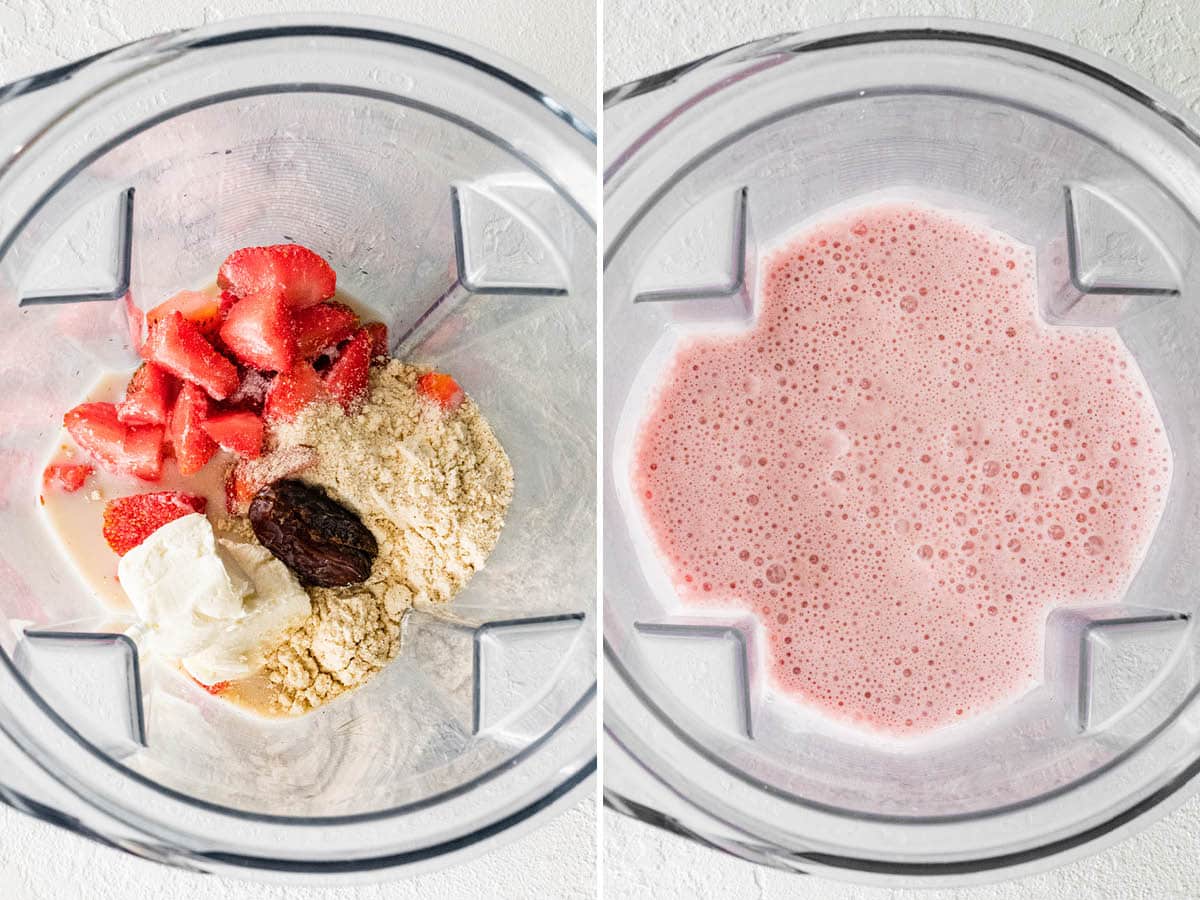 How to do
Add all ingredients, except for toppings, to a high speed blender such as a Vitamix and blend until smooth.
Pour the shake into a glass and top with strawberries, graham cracker crumbs, and whipped cream (regular or coconut), if desired. Enjoy!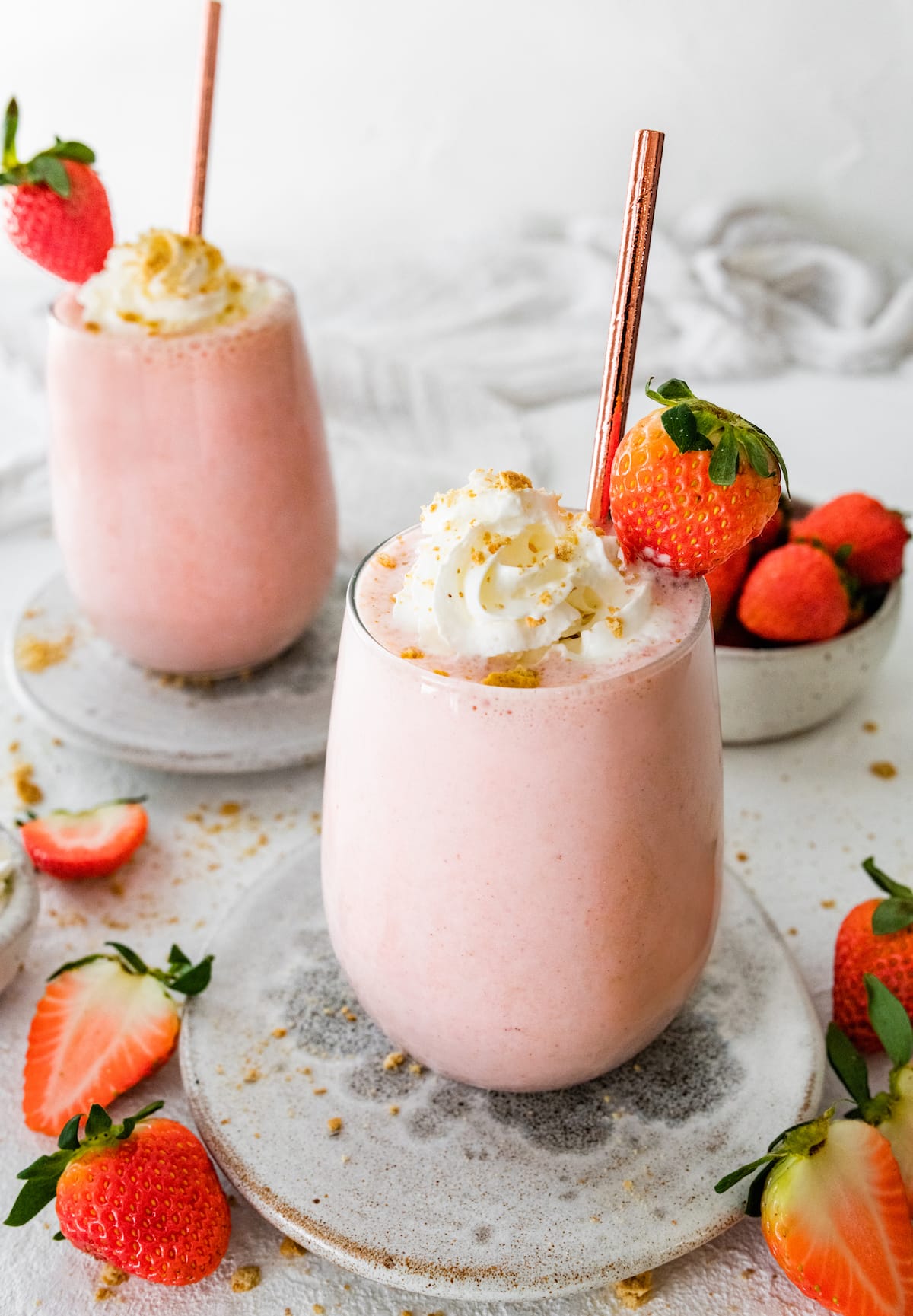 substitutions and variations
Milk: Substitute almond milk for your favorite type of milk: cow's milk, soy milk, oat milk, coconut milk, cashew milk, etc.
vegan: If you need to make this shake vegan, use a dairy-free cream cheese.
Sweetener: Feel free to omit the medjool date or use your preferred sweetener. Honey, maple syrup, monk fruit, or stevia are great alternatives.
Frozen fruit: If you only have fresh strawberries on hand, you can use that. You will only want to add a handful of ice cubes to the smoothie to cool it down. Also, if you don't have strawberries on hand, you can swap them out for other frozen fruits such as raspberries, blueberries, blackberries, cherries, peaches, bananas, or mangoes.
Protein: If you're not a fan of protein powder, you can swap it out for vanilla or plain Greek yogurt or cottage cheese. You can also try my cottage cheese shake that tastes like a raspberry cheese shake. If you're using plain yogurt or cottage cheese, I recommend adding a pinch of vanilla extract for a more dessert-like flavor.
Expand Nutrition: Add more nutrition to this smoothie by adding a handful of chia seeds, flax seeds, or walnuts. You can also add a tablespoon of nut butter like cashew or almond butter for extra protein and healthy fats.
Add vegetables: If you want to add some vegetables to the mix, I suggest adding frozen cauliflower or zucchini. Both will add nutritional benefits without altering the flavor too much. Of course, feel free to add a handful of greens like spinach, you'll just have a Green Strawberry Cheesecake Smoothie!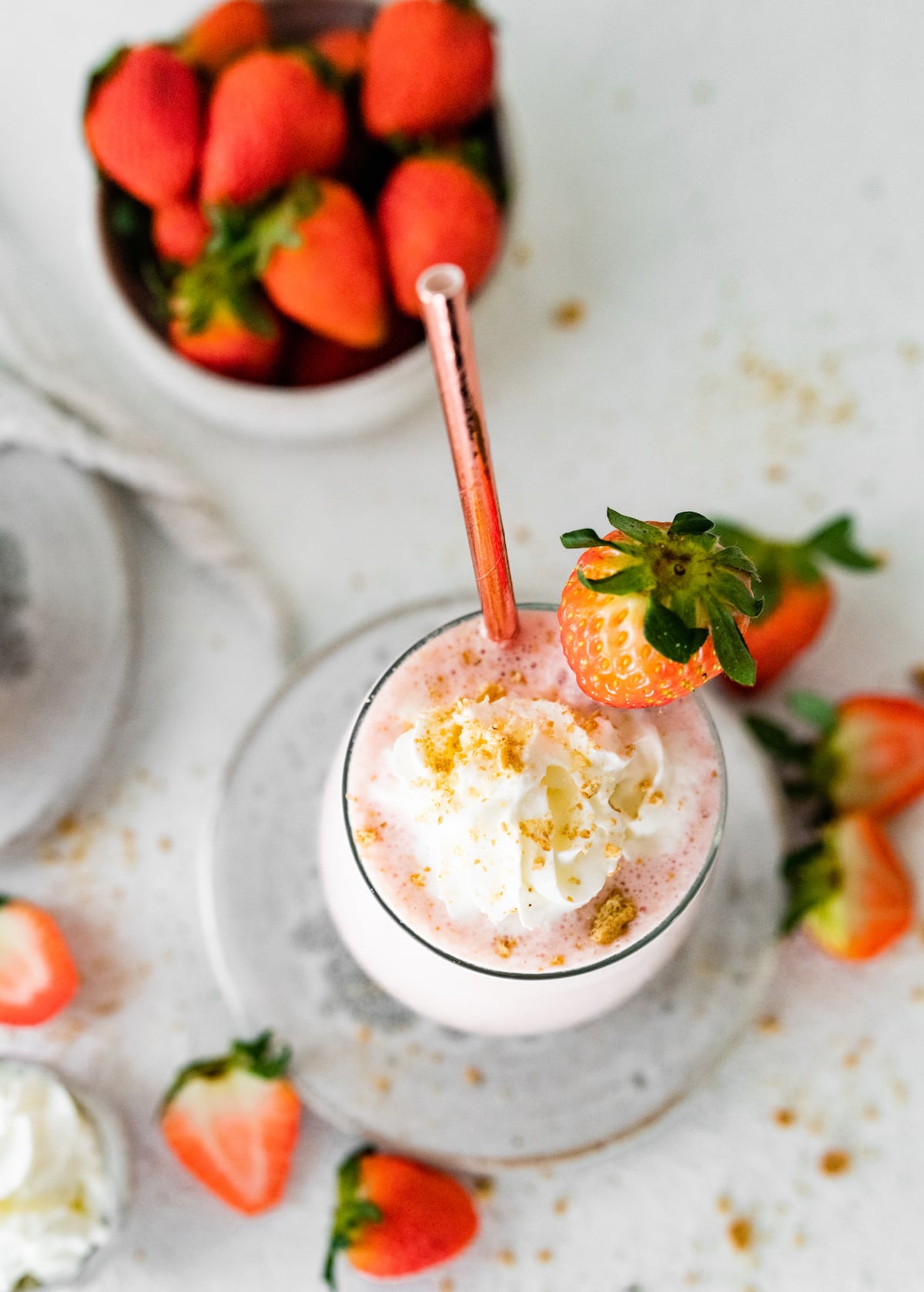 More Smoothie Recipes to Try
Be sure to check out all the smoothie recipes as well as the full collection of drink recipes at EBF!
Place all ingredients in a high speed blender. Mix until smooth.

Pour smoothie into a glass and top with strawberries, crushed whole-grain crackers, and whipped cream. Enjoy!
Service: 1 smoothie without toppings | Calories: 429kcal | Carbohydrates: 48gram | Protein: 24gram | Fat: 13gram | Saturated fat: 6gram | Cholesterol: 30milligrams | Sodium: 586milligrams | Potassium: 533milligrams | Fiber: 5gram | Sugar: 35gram
Nutrition information is automatically calculated and should only be used as an approximation.