Strawberry Compote is a fresh and delicious strawberry topping for ice cream!
This recipe uses only 5 ingredients and can be made in less than 15 minutes. It's the perfect way to use fresh strawberries in the summer, but it's easily made any time of the year using fresh or frozen berries.
This homemade strawberry compote recipe is naturally gluten-free, egg-free, vegan, and made with all-natural ingredients.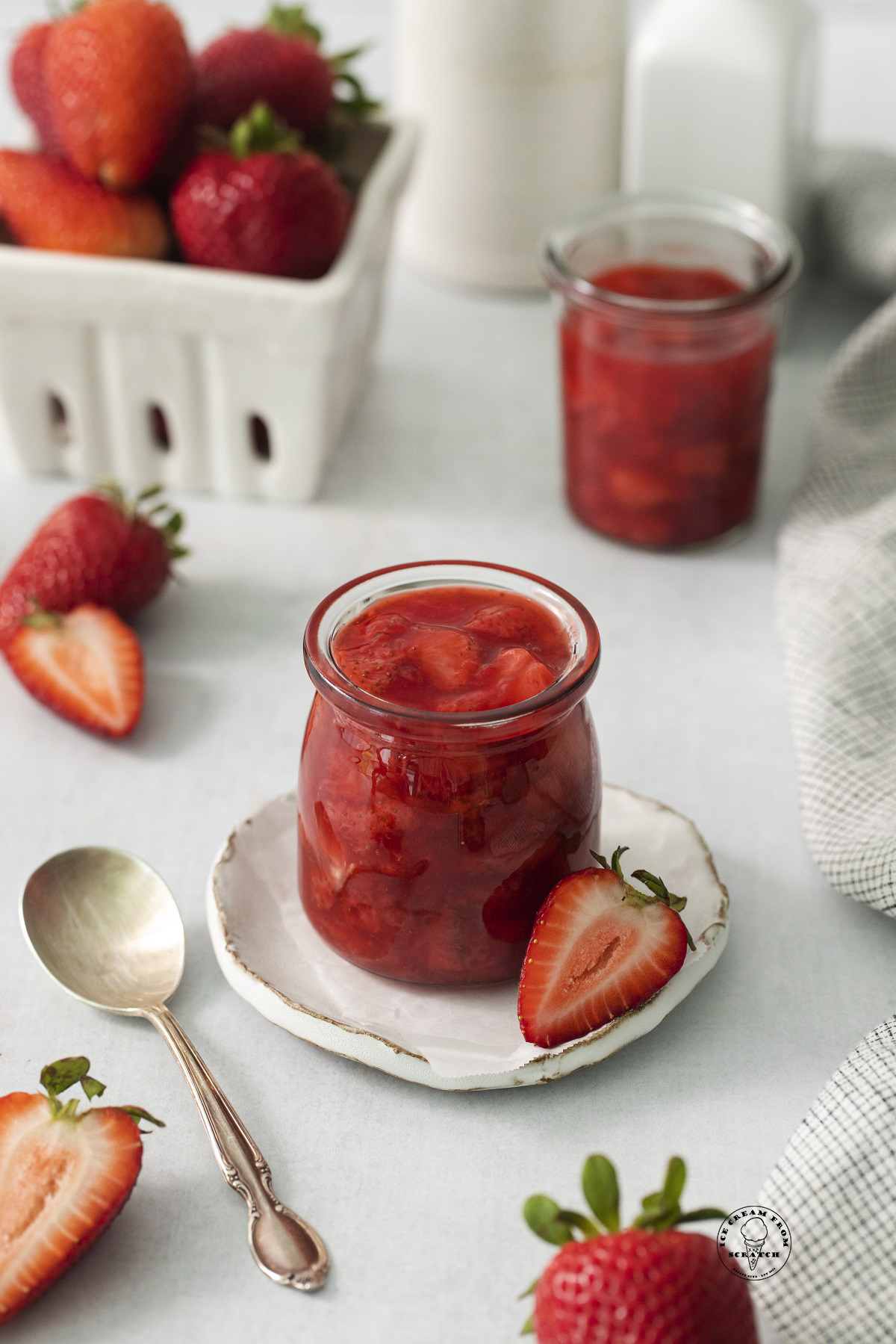 Strawberry compote is one of my favorite ice cream toppings! It's amazing scooped over a bowl of vanilla ice cream or mixed with homemade mascarpone ice cream.
I have even enjoyed this Berry Compote with Lime Sorbet!
Why You'll Love This Strawberry Compote Recipe
Better than store bought – The compote from the store will be preserved in a jar, which can be convenient, but it automatically means that the compote is made with preservatives. When you make strawberry compote from scratch, all you'll get is the fresh taste of berries cooked in a delicious topping with sugar and a little lemon.
Easy to make ahead of time – This recipe can be made and kept in the fridge for a week or so. It's a great way to preserve fresh berries that could go bad before you're ready to enjoy them.
It's very simple to do! You just need to mix these few ingredients and cook them on the stove for a while so that the compote thickens and the berries are cooked. You can do the same to make raspberry compote or blueberry compote.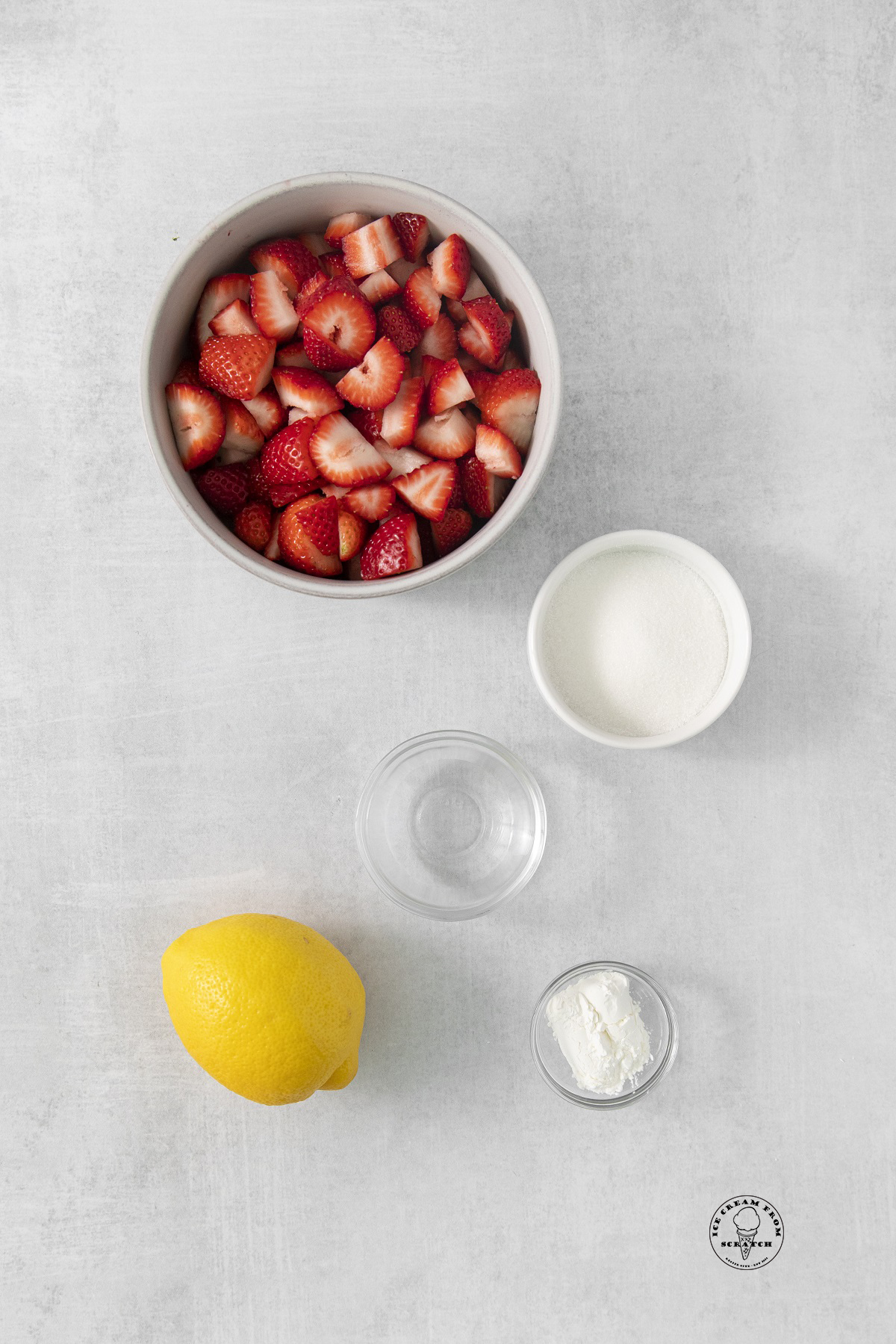 Ingredients in Homemade Strawberry Compote
strawberries – Fresh strawberries are ideal, but you can also do this with frozen and thawed strawberries if needed. Wash, peel and dice strawberries before cooking.
Lemon – Grate the lemon, then squeeze it. We will use both to give this compote a fresh and bright taste.
Sugar – Granulated sugar is my preferred sweetener for making fresh strawberry compote. You can add more sugar if your berries seem particularly tart.
Cornstarch – to thicken the strawberry sauce, a mixture of cornstarch and water works quickly and easily.
How to make strawberry compote
Start the day before by making sure the bowl of your ice cream maker has at least 24 hours to freeze.
In a medium saucepan, combine diced strawberries, granulated sugar, lemon zest, and lemon juice. Cook over medium heat, stirring occasionally, until the strawberries begin to break down and release their juices.
In a small bowl, combine the cornstarch and water to make a porridge.
Add the cornstarch mixture to the strawberries and stir. Cook for an additional 2-3 minutes, stirring frequently, until the mixture has thickened.
Allow your strawberry compote to cool completely before enjoying it or saving it for later.
These numbered steps match the numbered photos above and are for illustrative purposes. For the full list of ingredients and instructions for making Homemade Strawberry Compote, check out the recipe below.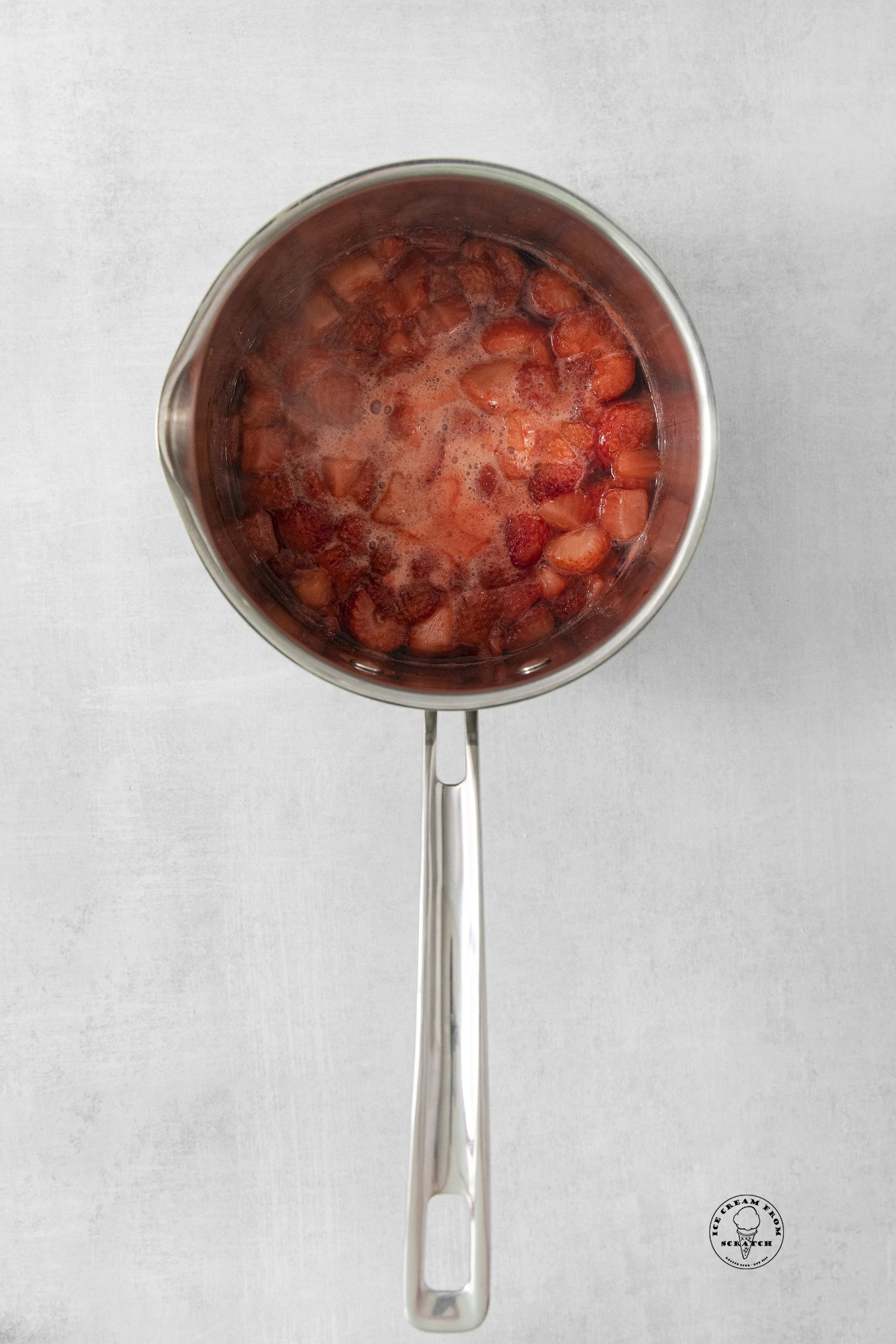 How to Store Strawberry Compote
Once the compote has cooled to room temperature, store in an airtight container in the refrigerator for 5-7 days. I prefer to use a glass jar, but any type of container will work just fine.
How to reheat strawberry compote
Sometimes you'll want to enjoy the compote cold from the fridge, but for some applications, like topping ice cream or waffles, you might want to warm it up a bit!
Add the compote to a small saucepan and heat over low heat, or use your microwave to heat the sauce in 15-second increments, stirring after each.
Make sure not to overheat the strawberry sauce.You don't want to burn your mouth!
Tips for Making this Strawberry Compote Recipe
Use quality ingredients – When making homemade ice cream toppings, you'll want to make sure you use high-quality ingredients for the best result.
Don't skimp on sugar Fresh strawberries are sweet, but not sweet enough to be an ice cream topping on their own. The amount of sugar in this recipe is perfect, and you can even add more if your berries are particularly sour.
To make strawberry sauce Instead of compote, you can press the finished strawberry mixture through a fine mesh strainer to create a smooth sauce.
What berries are better for compote?
This method will work for any type of berry you enjoy! Try it with raspberries, blueberries, or blackberries.
Mixed Berry Compote is also super easy to make with any combination of your favorite fruits.
How to serve strawberry compote
There are endless ways to enjoy strawberry compote! Of course, it's amazing on ice cream.but you can also try one of all these ideas:
On pancakes, waffles or French toast.
Mixed with yogurt, oatmeal or cottage cheese.
Spoon over cheesecake, angel food cake, or pound cake.
Spread on toast, English muffins or bagels.
Mix it into a vanilla milkshake or milkshake.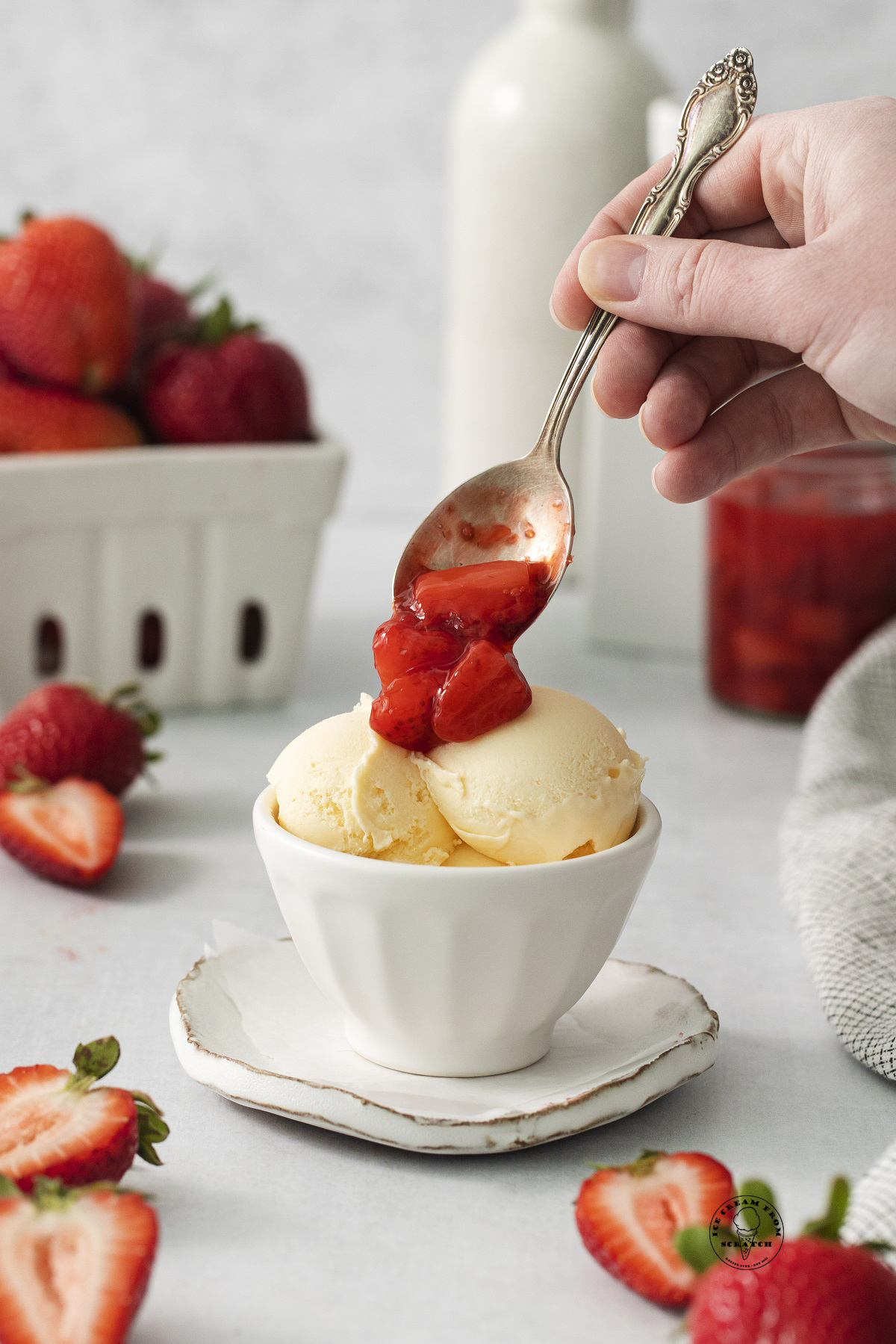 Strawberry Compote Variations
This recipe is completely basic and lets the flavor of strawberries shine through! However, you can be creative with other flavors. Try one or more of these flavor enhancers:
Cinnamon
Nutmeg
Vanilla extract
almond extract
Orange or lime zest
fresh herbs
Rum, gin, or liqueur (for an adults-only strawberry compote variation)
Homemade ice cream recipes
Top any of these ice cream flavors with your homemade strawberry compote!
Our Favorite Ice Cream Tools:
Cuisinart 2QT Ice Cream Maker – Works with ice cream, sherbet and frozen yogurt.
Loaf pan – You can use any 9 x 13 loaf pan or a shallow pan, but we like this one.
Ice Cream Scoop – Make sure you have a good ice cream scoop. This is one of our favourites.
Ice Cream Containers – We love to keep a couple of ice cream containers on hand for when we make homemade ice cream.
Note: Each of these links will take you to the exact product on Amazon. As an Amazon Associate, I earn a little on every qualifying purchase.
LET'S BE SOCIALyou can follow us on pinterest or leave a comment below if you have any questions.
Did you make this homemade strawberry compote recipe? Leave a comment below to let us know what you thought and if you added any additional plugins.
Yield: 1.5 cups
strawberry compote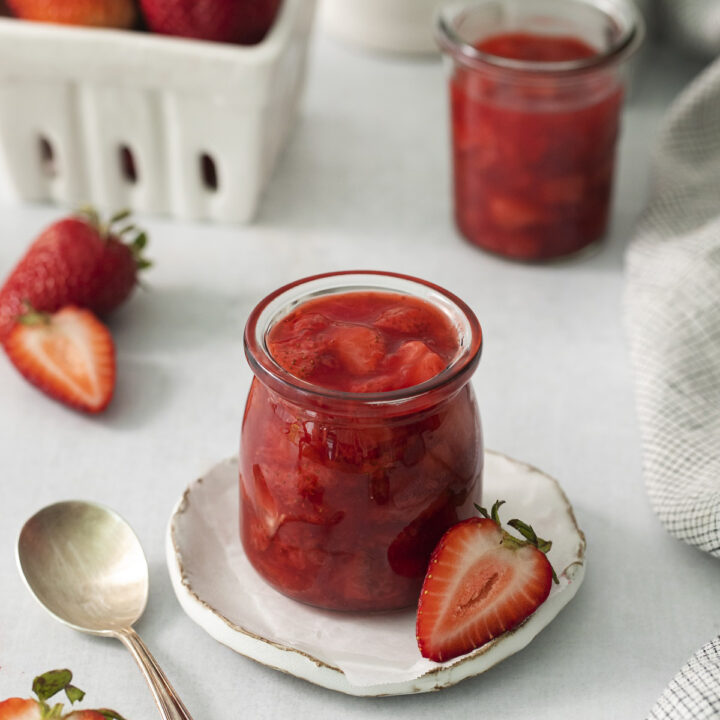 Homemade Strawberry Compote is a fresh and delicious strawberry topping for ice cream. With only 5 ingredients, it's easy to make too!
preparation time
5 minutes
Time to cook
10 minutes
Total Time
15 minutes
Ingredients
1 pound fresh strawberries, peeled and diced

¼ cup granulated sugar

1 lemon, grated and juiced

1 tablespoon of water

2 teaspoons cornstarch
Instructions
In a medium saucepan, combine diced strawberries, granulated sugar, lemon zest, and lemon juice.
Heat the mixture over medium heat, stirring occasionally, until the strawberries begin to break down and release their juices, about 7-9 minutes.
In a small bowl, whisk together the water and cornstarch until the cornstarch is completely dissolved.
Add the cornstarch mixture to the saucepan with the strawberries and stir to combine.
Cook the strawberry syrup for an additional 2-3 minutes, stirring frequently, until the mixture thickens.
Remove the saucepan from the heat and allow the strawberry syrup to cool completely.
(Optional) For a smooth strawberry sauce, puree the mixture in a blender or food processor, then pour through a fine mesh strainer to remove the seeds.
Transfer to an airtight container and store in the refrigerator until ready to use.
grades
Feel free to use frozen strawberries for this recipe instead of fresh, if that's what you have.
Store: Keep up to 7 days in the refrigerator in an airtight jar or mason jar. It can also be frozen for up to 2 months in an airtight container.
Nutritional information:
Produce:
6
Portion size:
1
Amount per proportion:
Calories: 60Total fat: 0gSaturated fat: 0gTrans fat: 0gUnsaturated fat: 0gCholesterol: 0 milligramsSodium: 1mgCarbohydrates: 15gFiber: 2 gSugar: 12gProtein: 1g
Spread the love for ice cream!