Homemade Sugar Free Ice Cream is the perfect cool treat when you're craving something delicious and refreshing without the added carbs and sugar!
This sugar-free vanilla ice cream is rich and creamy, made with just four ingredients, and mixes up quickly and easily in your ice cream maker.
The made from scratch sugar free ice cream is low carb, keto friendly, diabetic friendly, gluten free, and totally amazing!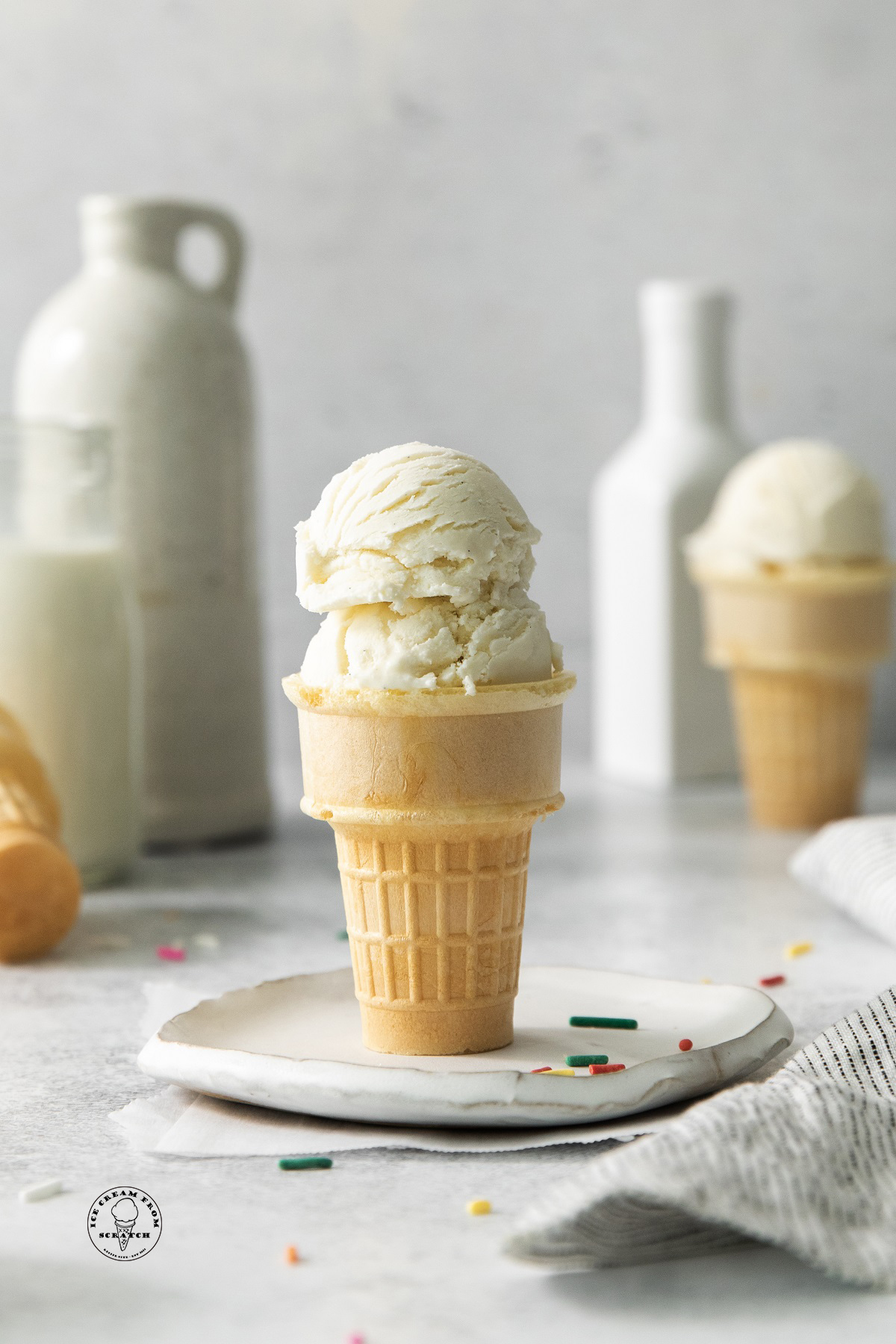 Ice cream has always been considered an indulgence. It's decadent and rich with heavy cream and whole milk, and sweetened, usually with sugar.
This can often mean that ice cream is off-limits for some, and we can't have that here!
Traditional ice cream is a high-calorie, high-carbohydrate dessert, and if that doesn't work for your lifestyle or diet, then andYou will be glad you found this easy sugar free ice cream recipe!
Made with your favorite low carb powdered sugar substitute Like Swerve Powder, Besti Allulose Sugar Replacement, or Lakanto Monk Fruit Erythritol Blend, this ice cream is suitable for special diets, but everyone can enjoy it!
Why You'll Love This Sugar Free Ice Cream Recipe
The best part about this ice cream is that everyone can enjoy it! You can call it diabetic ice cream, no sugar added ice cream, low carb ice cream, or just call it tasty homemade vanilla ice cream.
If you don't tell anyone, they probably won't even notice that this vanilla ice cream recipe is sugar free! It's still rich and sweet and delicious, the way ice cream should be.
You will also love the simplicity of this sugar free ice cream recipe. really it only requires four ingredients. no kitchen involvedand your ice cream maker will do most of the work!
If you're looking for other heavenly ice cream recipes that fit alternative dietary requirements, check out our Dairy-Free Oat Milk Ice Cream and Vegan Coconut Ice Cream below.
You can even make healthy ice cream for your dog with our easy recipe! Everyone should be able to enjoy ice cream.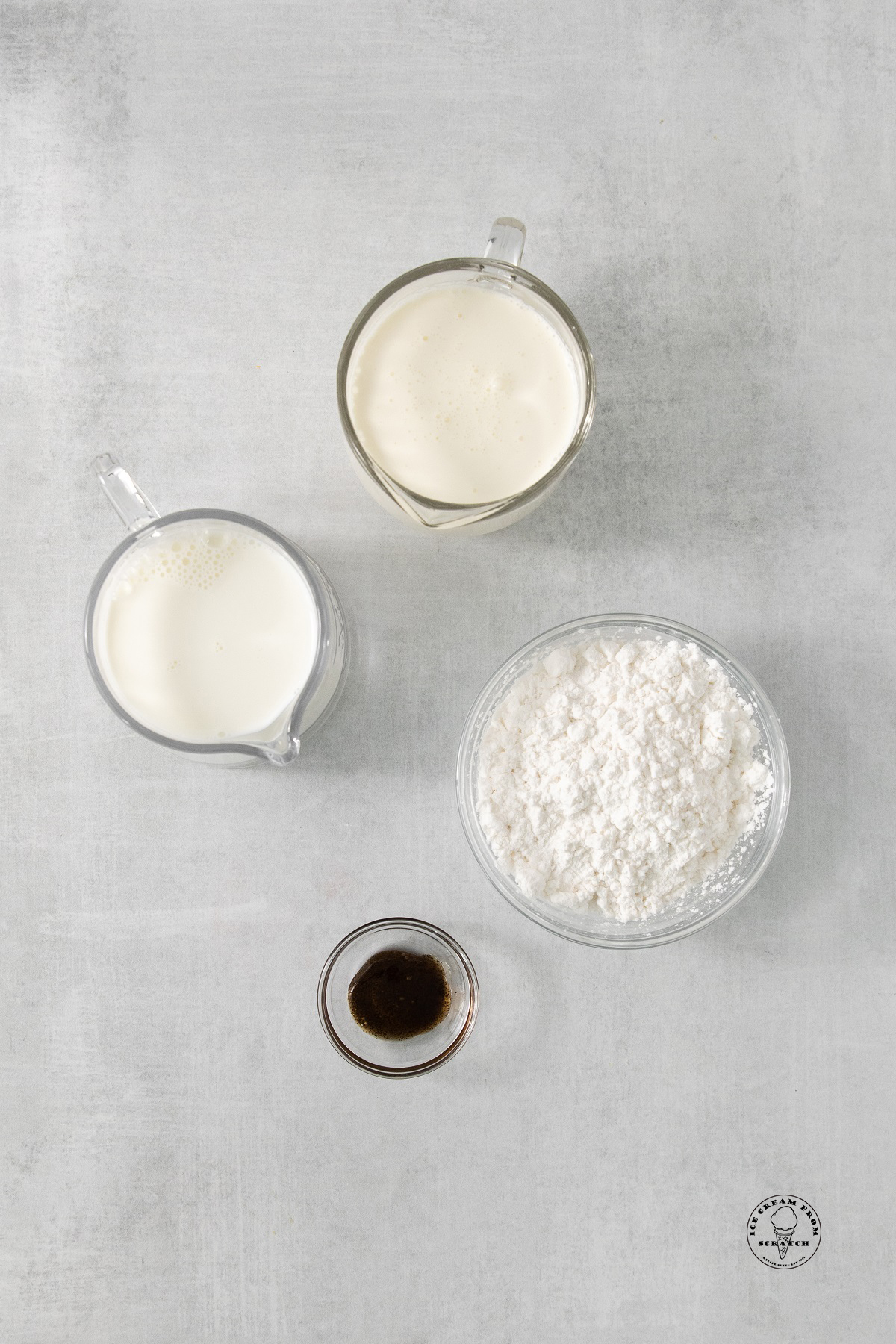 Sugar Free Homemade Ice Cream Ingredients
Whole milk and heavy cream – We tested this recipe with various amounts of these two dairy ingredients and found that an equal amount of each resulted in sugar-free ice cream with the best creamy texture.
Confectioner's Sugar Substitute – Since we are not cooking or heating the ice cream base, you want to use a powdered sugar substitute. This way, the sweetener will completely dissolve in the milk without any problem.
vanilla paste – I love using this for a really rich and strong vanilla flavor, plus it adds those little vanilla specks! This recipe will also work with a good quality pure vanilla extract (add two teaspoons for the same effect) or the seeds of a whole vanilla bean.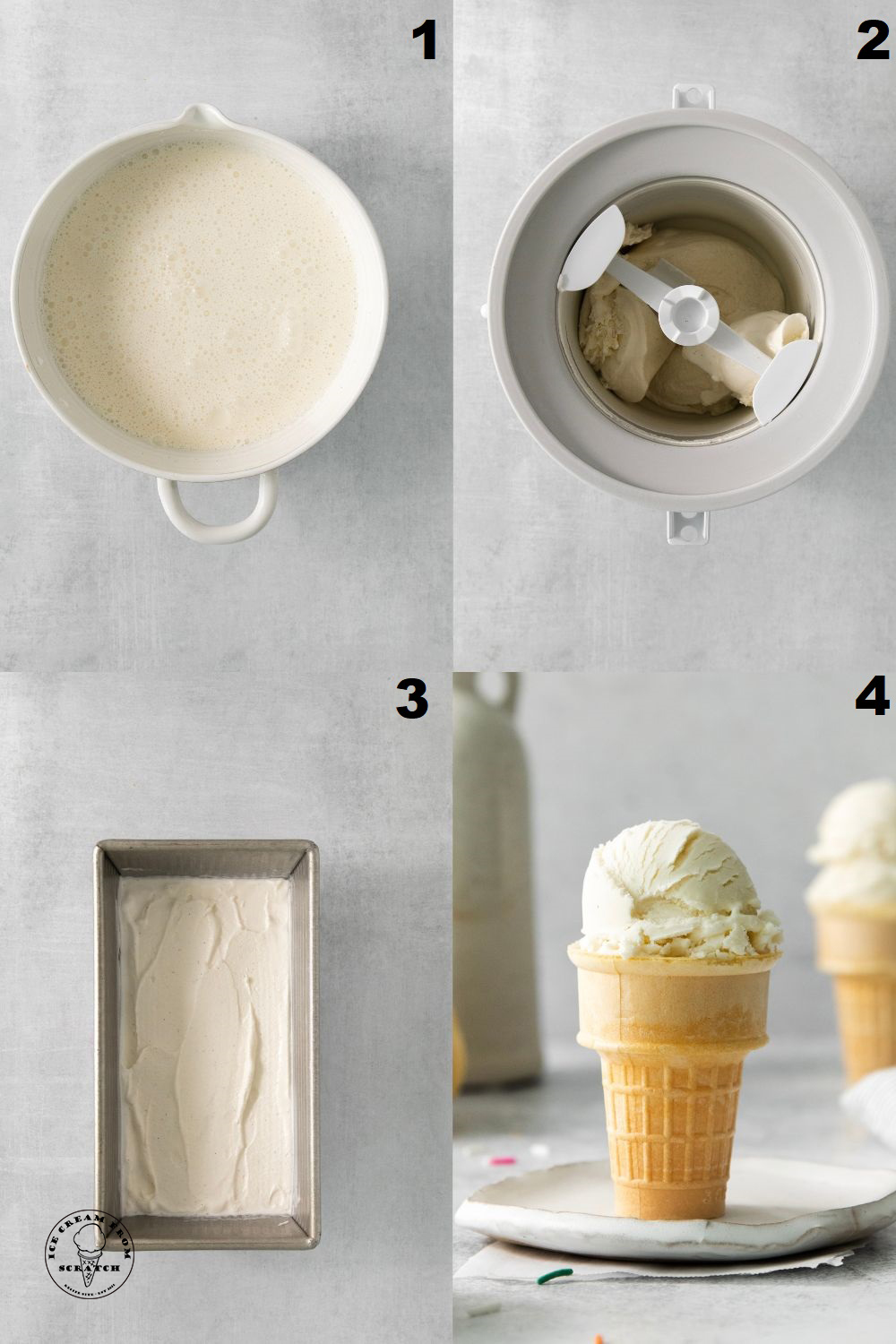 How to make sugar free ice cream from scratch
Start the day before by making sure the bowl of your ice cream maker has at least 24 hours to freeze.
mix everything – Add all the ingredients to a large bowl and beat until the sugar substitute has dissolved.
Shake – Add the ice cream base to your fridge and freeze according to your manufacturer's instructions. Here I am using the ice cream attachment on my Kitchenaid mixer, and it took me about 18 minutes.
Freeze – You can enjoy ice cream straight out of the machine, but for a solid dessert that can be scooped, transfer to a shallow bowl or loaf pan. Cover tightly with plastic wrap and freeze for 6 hours, or until set.
Enjoy! Let your unsweetened ice cream sit at room temperature for about 5 minutes to soften before scooping it out.
These numbered steps match the numbered photos above and are for illustrative purposes. For the full list of ingredients and instructions for making homemade sugar free ice cream, check out the recipe below.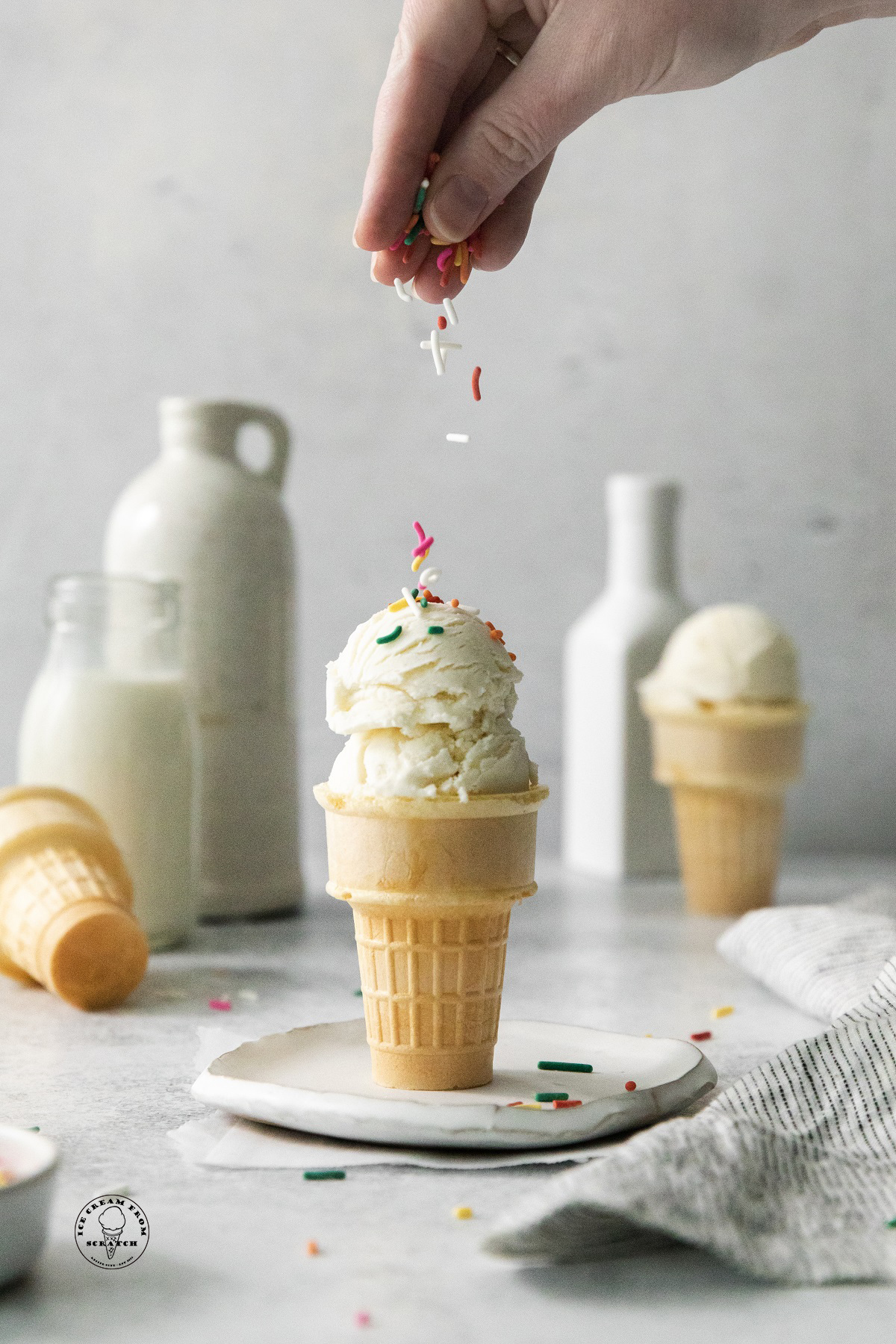 How to Store Sugar Free Ice Cream
Store this homemade sugar free ice cream in the freezer in an airtight container with a piece of parchment paper or wax paper pressed on top for up to a month.
The paper on the surface keeps air away from the ice cream and discourages freezer burn or crystallization.
Tips for making this sugar-free ice cream recipe
Use quality ingredients – When making homemade ice cream, you'll want to make sure you're using high-quality ingredients for the best result.
Chill out – If possible, always start with cold ingredients. This is important for homemade no-churn ice cream recipes and sundae recipes.
Don't skimp on fat High-fat milk and cream are essential for making homemade ice cream. Opting for a low-fat option often leads to frozen sundaes and inconsistency in texture.
Don't go crazy with plugins: If you're adding extra ingredients, choose one or two and make sure they're cut into pieces no bigger than a cranberry or pea.
Use your favorite sweetener – But be sure to use one that comes in a powdered version. It is also important to use a sugar-free sweetener that is a 1:1 substitute for sugar. There are some sweeteners that are much sweeter than sugar and will not work well here.
Is there ice cream for diabetics?
This sugar-free ice cream recipe is a great option for people watching their sugar intake due to diabetes or any other reason.
Is this ice cream recipe completely sugar free?
There is natural sugar in dairy cream and milk, making it nearly impossible to create a sugar-free ice cream recipe.
Swapping the sugar for a sugar-free alternative means this recipe is technically no-sugar-added ice cream, with as little sugar as possible, while still being delicious and creamy.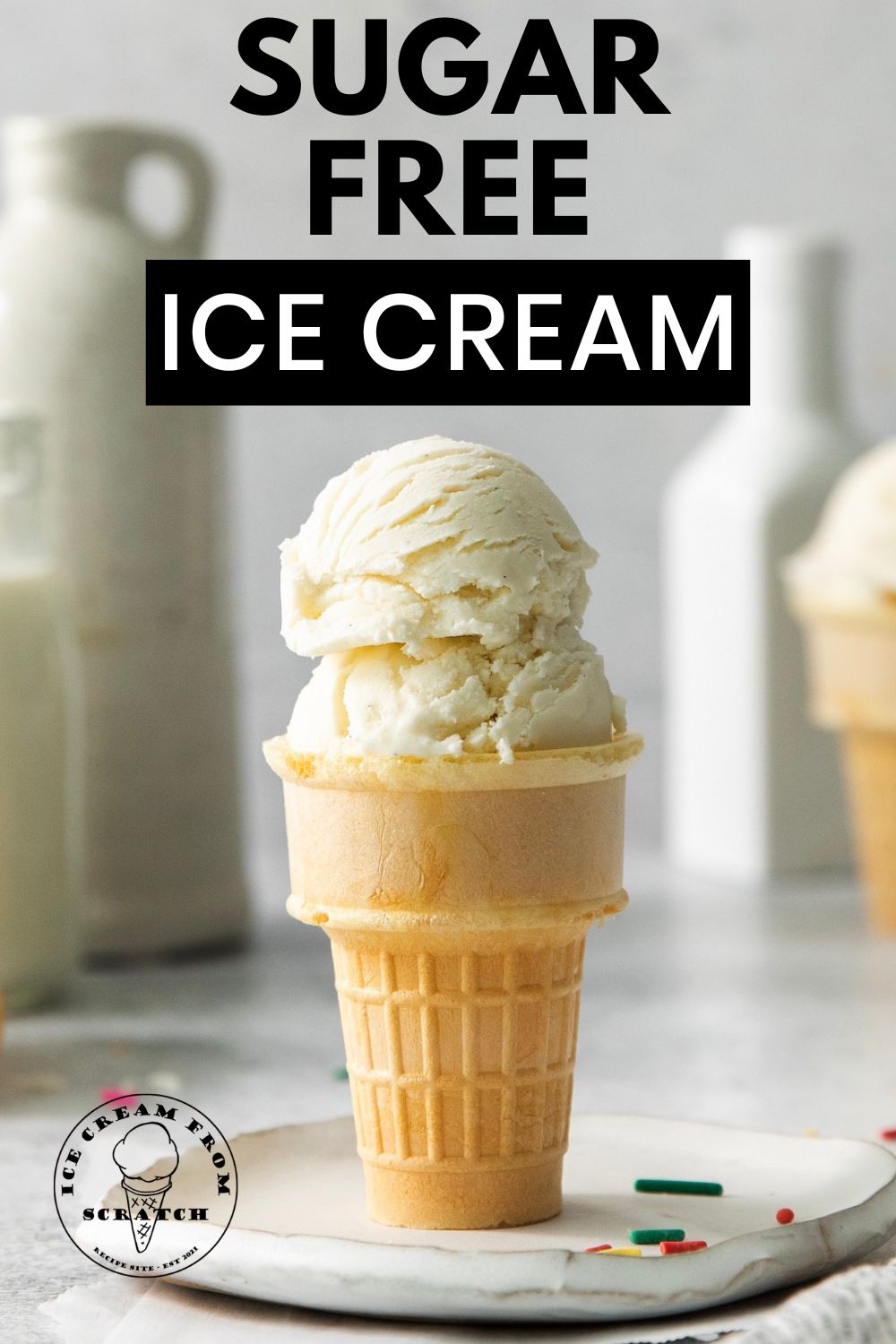 Instructions for No-Churn Sugar-Free Ice Creams
Chill a shallow bowl or loaf pan in the freezer while you mix the ice cream ingredients.
Pour the ice cream mixture into the prepared pan and freeze for 3-4 hours. Stir the ice cream every 30 minutes for the first 2 hours to help add air. This will help create a smooth, creamy texture.
sugar free ice cream toppings
When choosing toppings for your homemade no sugar added ice cream, you should try to keep in mind that your toppings aren't adding too much sugar either.
Try chopped peanuts or almonds, unsweetened chocolate sauce, fresh berries, a swirl of peanut butter, or dark chocolate chunks. You can also top a bowl of sugar free ice cream with sugar free whipped cream.
Sugar Free Ice Cream Flavor Options
If you don't like vanilla, you can play around with this recipe to make different flavors!
Keep the recipe exactly the same, including the vanilla, but add ½ teaspoon of mint, coconut, almond, or other flavor extract.
You can also mix up to ½ cup of unsweetened cocoa powder to make this a sugar free chocolate ice cream.
More homemade ice cream recipes
Try these frozen treat recipes that are made with all-natural ingredients.
Our Favorite Ice Cream Tools:
Cuisinart 2QT Ice Cream Maker – Works with ice cream, sherbet and frozen yogurt.
Loaf pan – You can use any 9 x 13 loaf pan or a shallow pan, but we like this one.
Ice Cream Scoop – Make sure you have a good ice cream scoop. This is one of our favourites.
Ice Cream Containers – We love to keep a couple of ice cream containers on hand for when we make homemade ice cream.
Note: Each of these links will take you to the exact product on Amazon. As an Amazon Associate, I earn a little on every qualifying purchase.
LET'S BE SOCIALyou can follow us on pinterest or leave a comment below if you have any questions.
Did you make this sugar free homemade ice cream recipe? Leave a comment below to let us know what you thought and if you added any additional plugins.
Yield: 1 quart
Sugar Free Ice Cream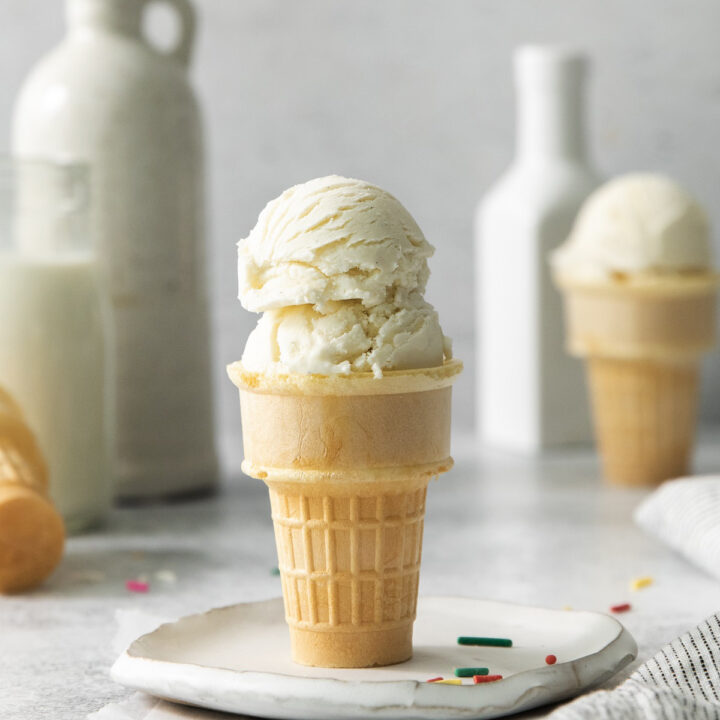 Homemade Sugar Free Ice Cream is the perfect cool treat when you're craving something delicious and refreshing without the added carbs and sugar!
preparation time
1 minute
Time to cook
20 minutes
freezing time
6 hours
Total Time
6 hours 21 minutes
Ingredients
1 cup of whole milk

1 cup heavy cream

¾ cup icing sugar substitute (such as Swerve)

1 teaspoon vanilla paste
Instructions
Add all ingredients to a large bowl and beat until the sugar substitute has dissolved, about 30 seconds.
Transfer the ice cream base to your refrigerator and freeze according to the manufacturer's instructions. In my Kitchenaid ice cream maker, freezing took about 18 minutes.
For soft serve, enjoy ice cream immediately.
For the scooped ice cream, transfer the frozen soft base to a 9×5″ loaf pan and wrap tightly with plastic wrap. Place the ice cream in the freezer until set, at least 6 hours. Allow the ice cream to sit at room temperature. room for 5 to 10 minutes to soften a bit, then take out and enjoy.
grades
You can use your favorite sugar-free sweetener in this recipe, but I suggest using a powdered one so it dissolves easily.
Instead of vanilla paste, use twice as much vanilla extract or the seeds of a whole vanilla pod.
Recommended Products
As an Amazon associate and member of other affiliate programs, I earn on qualifying purchases.
Nutritional information:
Produce:
6
Portion size:
1
Amount per proportion:
Calories: 215Total fat: 16gSaturated fat: 10gTrans fat: 0gUnsaturated fat: 5gCholesterol: 49mgSodium: 29 milligramsCarbohydrates: 17gFiber: 0gSugar: 17gProtein: 2 g
Spread the love for ice cream!